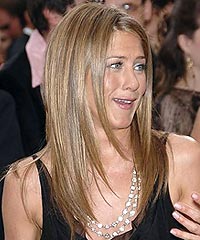 Jennifer Aniston is someone who really suits layered hairstyles. This is pretty much her "classic layered hairstyle," meaning her straight long hair is parted in the middle and has layers cut mainly around the sides. The layers at the side work for Jennifer because they complement her face by softening her jaw line. Also, her hair texture and elasticity suits layering. It's not too fine, meaning it won't look too thin and wispy when layered, and it's not curly either. It's the perfect hairstyle for Jennifer because it suits her and she doesn't have to do much for it to sit nicely.
Layered hairstyles are a fashionable choice for celebrities, but you don't have to be one to have great layered hair. There are, however, some things about layered hairstyles you should bear in mind. If you don't like the sound of any of these, then layered hair might not be for you:
Hair texture: coarse and medium hair are best suited to layering. Fine hair can be made to look even thinner and wispier (if you're not sure of your hair texture take a look at our free consultation).
Hair elasticity: if you're hair's wavy, layered hairstyles can enhance your natural wave. But if your hair's curly, then layering (if not done correctly) might make your hair look triangular in shape. Layers might also make wiry and frizzy hair uncontrollable.
Layered hairstyles can be difficult to cut, so you need a good long consultation with your stylist.
Layered hairstyles need regular hair care maintenance and trims- so if you're after a low maintenance hairstyle then layers probably aren't a good choice for you.
Layers can take years to grow out, which means that if you like to change your look regularly then maybe you should give layers a miss.
Some layered hairstyles can't be worn as updos- to prevent this your sides shouldn't be shorter than your shoulders.
Layered hairstyles are like any hairstyle in that you need to think a bit about whether they're the right hairstyle for you before you make the commitment. If you have a chat with your stylist and do a couple of our quick (and free) consultations, you'll definitely be on the right track.