Layered hairstyles are a fashionable choice for celebrities because these hairstyles can look glamorous and sophisticated without being too high maintenance. For example Rumer Willis' copper colored short hair incorporates jagged layers all over to create a great wispy and textured finish. You might like to try a hairstyle like this if your hair's medium texture and your face shape is oval, oblong, square or diamond.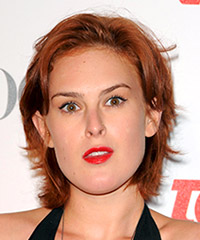 Rumer Willis
Like most hairstyles, layered hairstyles come in a range of different looks and layers can also be incorporated into a variety of different haircuts. The basic kinds of layered hairstyles (of course there are variations of each) are the short crop, spikey layers, wispy layers, and graduated layers.
Layered hairstyles can also be quite avant-garde and alternative. Check out the salon style on our model for example. Layering emo hair is a popular look right now too. Layered hairstyles are "emo" when layers are used to frame the face. Layers cut through the end sections are also a cool way to create wispiness.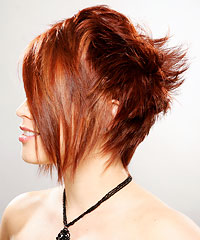 Salon Style
Before you add layers to your haircut there are some things you should know. Why? Because layered hairstyles might not be for you. You need to think about the kinds of layers you'd like and where the best place is to have them. Most importantly, you need to think about whether a layered hairstyle will suit your hair texture and elasticity; for instance, if you've got fine hair that's wavy or soft and curly, layers are great for adding volume; but if you've got long straight fine hair, a layered hairstyle is not such a great idea.
If you're interested in getting a layered hairstyle check out our other articles on layered hair and try on a few examples using our virtual hairstyler. It's also recommended that you do our free hair consultations, and have a chat with a professional stylist to learn more about whether your hair texture and elasticity and density will suit layered hairstyles.