Some things just never change for Nicole Richie. Often she's in the shadows of other peoples' fame, or she's on again and off again with boyfriends, or she's in and out of rehab, or she's just "too skinny." At TheHairStyler.com there's one thing we always notice staying the same in her life: those boring bangs! Whether her hair's long, blonde, brunette, or even in a bob-the bangs just won't go away.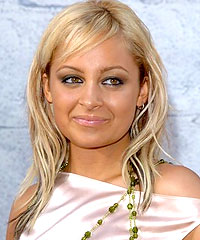 We're over Nicole Richie's bangs, and we think she should be too. For a while we thought, "Maybe it's just that her hairstylist has gone on a very long vacation." And then we almost convinced ourselves that bangs are just best for her face. But now we're not so sure. Have a read and see what you think.
Whether it's the high life or the Simple Life, Nicole's hair always attracts attention. This style is where it all started. Typically, soft layers are cut throughout and choppy bangs add a flirty finish.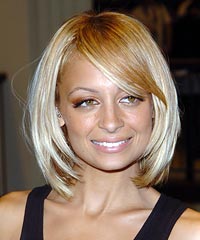 Again and again Nicole keeps coming back to those bangs. With this funky bob, her hair is cut to one length and layers have been added for softness, shape and definition. Long, side-swept bangs have been cut to blend in with this cool look-but we think they're not the best for Nicole.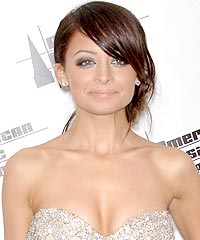 Nicole at the 2006 American Music Awards. Her long hair is pulled up into a style at the side of her head. Her thick bangs are styled to the side to blend in with the swept design. Sure, this is a great hairstyle for most occasions and suits square faces, but Nicole's been-there-done-that with those bangs. We think she could do so much more.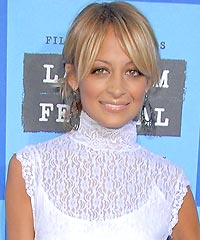 One more time: here we see her at the Los Angeles Film Festival. She's chosen a simple hairstyle, which almost works, but we're just so bored.
Nicole loves those bangs, and like other bad habits, they're hard for her to break. No doubt, Nicole is gorgeous, but that's part of our problem. Not only are her bangs boring, but they're like a frumpy hat hiding her beautiful facial features. At TheHairStyler.com, choosing the right style for you face shape is important, and we think Nicole could do so much better.