Pisces women are sensitive, ethereal beauties that are immediately noticeable for their soulful eyes. Pisces women usually have soft, delicate features and round face shapes that can look very childlike and youthful. Pisces women can be quite shy and withdrawn, so their hair and makeup are always gentle and understated rather than bold and brash. Here are some Pisces celebrity beauties that know how to work their enigmatic beauty.
The virtually ageless Drew Barrymore wears her hair here in a cute bob hairstyle with jagged layers throughout. Her bangs have been cut to the cheekbones to show off her bone structure, while the length falls just at her delicate chin—a  beautiful look for a heart-shaped Piscean face.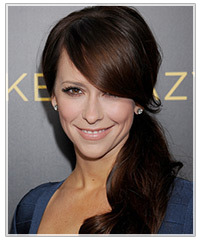 Jennifer Love Hewitt throws her long hair into a sleek side ponytail. This is a romantic look that gives a nice peek-a-boo effect with the long fringe covering one eye—perfect for mysterious Pisces women.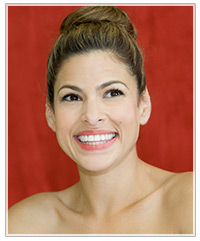 Eva Mendes' cute top knot is simple and elegant, plus it will show off those gorgeous Piscean features. This style works for day or night, and will work with medium to long hair.