The Latest Hairstyles for Oval Face Shapes
Bangs and shorter 'dos look particularly good on oval face shapes.
If you have an oval face shape- consider yourself lucky! This is known as the best face shape to have to pull off virtually any hairstyle. As an oval, you have a smooth, balanced outline to your face without any harsh lines or angles. That means you don't have to worry about camouflaging any areas or having to balance out excess width or length in the face, you can just focus on what suits your style!

The oval face is characterized by a balanced shape with equal length and width from top to bottom, but with the cheekbone area slightly wider. Bangs—especially straight across ones—look particularly good on ovals, as do shorter 'dos.

Now, let's check out some of the latest and greatest hairstyles for oval face shapes below!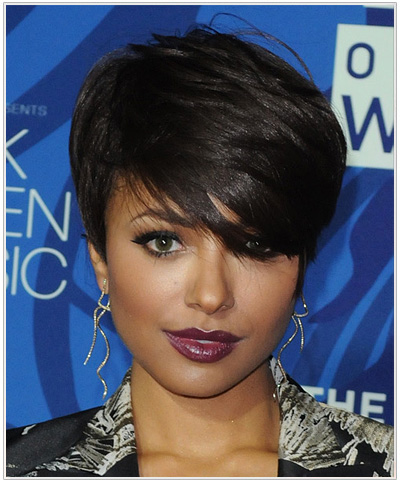 Kat Graham knows how to flatter her oval shaped face here with this sexy short hairstyle. The tapered sides and back paired up with long layers on top give this an edgy, modern vibe along with styling versatility. Kat (and other ovals) can wear this hairstyle smooth and sleek to the side or slicked back off the face. The long side swept fringe highlights those fabulous cheekbones that ovals are known for—but feel free to go shorter or longer depending on your style preference. Kat's colour looks fabulous here too—the rich black monochromatic shade works nicely with this stylish short 'do.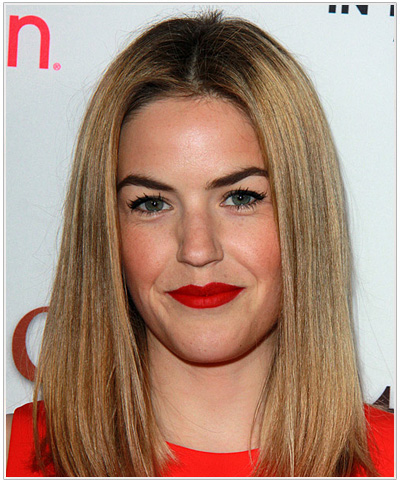 Lily Costner has more of an oblong shape to her face, but nonetheless her hairstyle is well suited for an oval shaped face. Ovals can pull off centre parts without a hitch and a blunt straight bob is an ideal cut for this face shape too, so combined, this hairstyle is a winner. Oval faces can handle blunt cuts and geometric lines like no other face shape can, so don't be afraid to go for a sharp angle in your bob or a blunt fringe.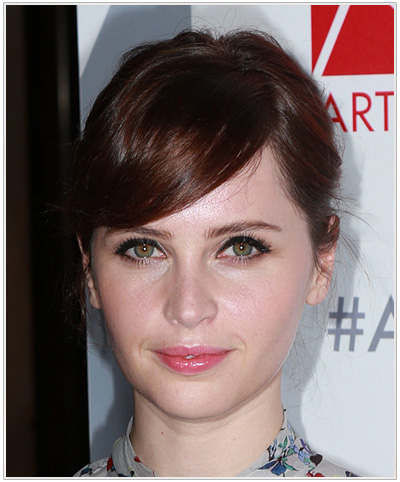 Felicity Jones has an oval face shape and enhances the softness of it with a pretty up-do hairstyle. The side-parted fringe that sweeps across the forehead brings the focus to her eyes and cheekbones, while the back is pinned into a gorgeous twist. Up-dos look especially great on oval face shapes as they highlight the soft outlines of the cheek and chin area.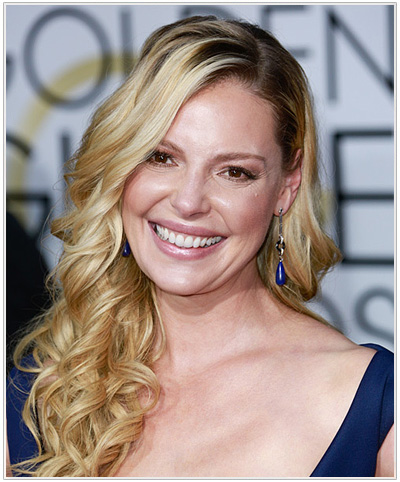 And of course, long hair looks great on oval face shapes too, as seen here on Katherine Heigl. Katherine's curly 'do falls past the chest area and works well with her oval features. Oval ladies who love their hair long will find this an ideal hairstyle, but it can be customized with some long side swept bangs or a straight across fringe to suit your style.
Finally, we have an edgy cropped hairstyle as seen on Rose McGowan. Ovals can pull off androgynous 'dos easily, so if this suits your look then go for it! Rose has opted for shaved sides and jagged layers on top for a cool, fashion forward look.
As an oval, you have the widest selection of hairstyles to choose from. Get even more ideas on the Hairstyles for Oval Face Shapes page!