If you have a round face shape then be thankful! Round face shapes have a natural softness to them and often retain their youthful features well into old age. Celebrities with round face shapes include Michelle Williams, Kirsten Dunst and Adele to name a few. And while having a round face shape does come with its style challenges, there are many hairstyles that flatter this face shape beautifully. Before we get to the hairstyles, you may first want to check if you have a round face shape. Here are the main features to look out for:

- Soft lines all around the face- no square jawlines, cheekbones, chin or forehead area
- Equal, or close to equal, width and height in the face
- Usually the forehead is broad but not high
Now that you've determined you're a circle, check out these 'dos that are perfect for you!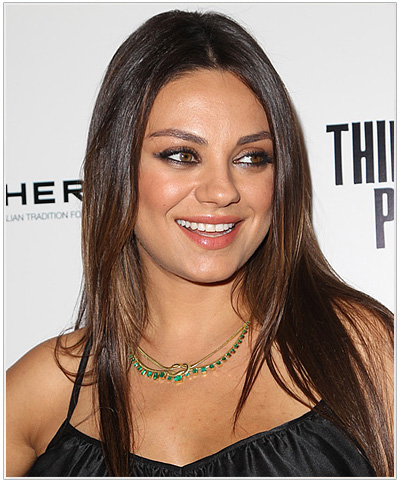 Here, Mila Kunis looks fabulous in a simple hairstyle that is made for circles. Long hair is flattering for round faces, as are long layers around the face, which create a more oval look. Mila has gone for an off centre part here too, which is a good little style trick for round faces. To liven this 'do up a bit, adding in some loose beachy waves is the way to go! Alternatively, sweeping the hair up into a ponytail or bun would look great too—just remember to leave some face-framing layers down if possible.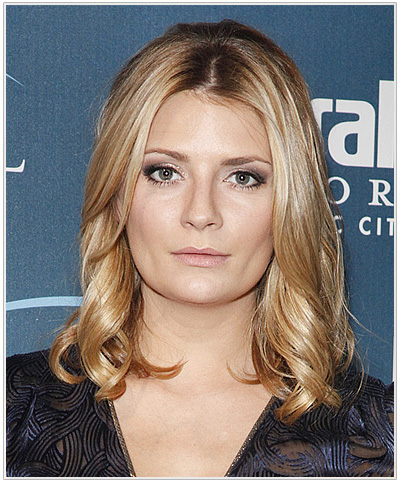 Mischa Barton shows us another look that is great for women who like shorter hairstyles. Mischa pulls of the center part here but a side part usually works better for women with circular face shapes. This is a blunt shoulder length cut which works well on round faces, and Mischa goes that extra mile by adding loose ringlets throughout. Keep the curls sleek and smooth by spraying them into place after they have set, rather than picking through or fluffing them up—this will only create added width in the face which circles need to avoid.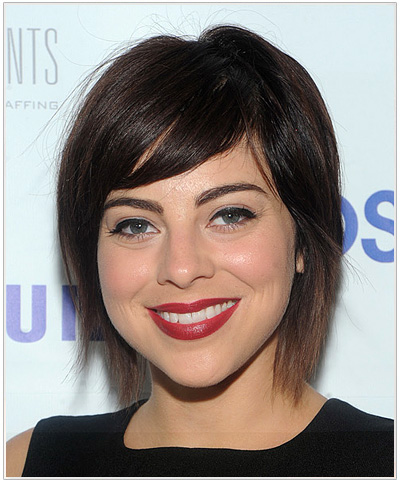 Krysta Rodriguez has more of a heart shaped face but this hairstyle is actually perfect for round faces as well. The deep side part, side swept fringe and jagged razor cut layers would all do very well on a circular face shape. The added volume that is created in the crown gives a nice balancing effect to round faces, while the ends sculpt a soft jawline nicely. Give this one a try if you like shorter hairstyles and aren't prone to wearing your hair up a lot.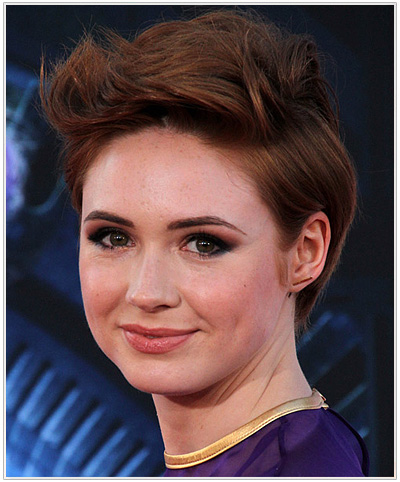 Finally, if you want a short and trendy hairstyle to show off your round face, check out Karen Gillan's windswept 'do. This haircut is tapered on the sides and back while the longer layers are jagged cut for maximum styling power. This messy windblown look works great for round face shapes as it brings attention to their gorgeous cheeks while adding height at the crown.
As you can see, round face shapes have a lot to choose from when it comes to hairstyles. For more ideas, see our Hairstyles for Round Face Shapes!