While it's true that most of us identify with one face shape (oval, circle, square, and so on), many ladies actually have a combination of one or more face shapes. Case in point—Crystal Reed has both a definite square shape to her face, as well as some heart-shaped characteristics. Crystal has a wide, angular jawline that is the same width as her temples, signifying a square shape. On the other hand, unlike most squares her jawline tapers down and has a narrow, rounded chin that is much narrower than the cheekbones, typical of a heart-shaped face. So which styles should she choose? The answer is both! If you have both square and heart-shaped characteristics to your face, check out some of Crystals' best hairstyles for some new ideas.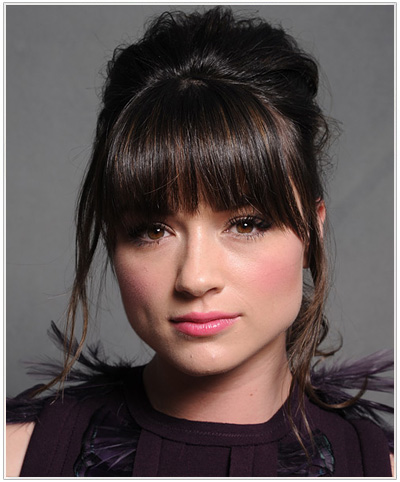 In this photo, Crystal softens up her square angles by wearing a long, soft fringe that skims the eyes, and she leaves some tendrils down for good measure. This is a great tip for ladies with square face shapes- always leave a few face-framing layers down when your hair is up to soften up those angles. Crystal's bouffant on the crown of the head is another ideal way to create more softness in a square face, so add that volume to all of your up-dos.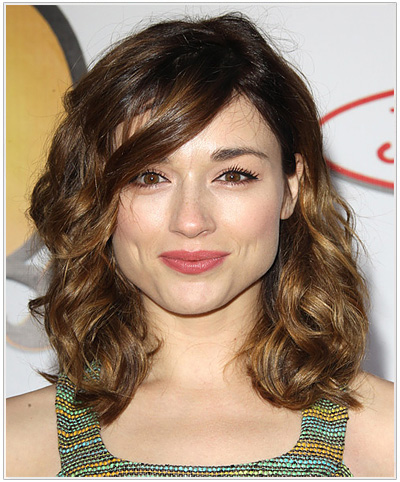 Here, Crystal is wearing a hairdo that is oh-so-flattering for both squares and hearts. The deep side part breaks up any harsh angles in the jawline and makes the face appear less wide. Crystal's soft waves look amazing too, as they soften up her square features and compliment her dainty chin. If you have a similar face shape and usually wear your hair stick straight, experiment with some soft beachy waves instead if you want a softer look.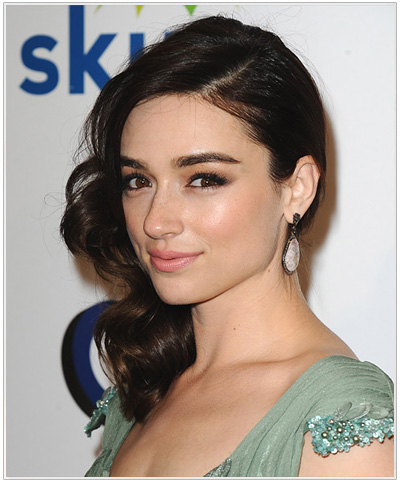 Another gorgeous hairstyle for hearts and squares is the side swept look. This pretty 'do works for day or night and can be styled in minutes. Square and heart face shapes in particular can pull of asymmetrical cuts and side-swept hairstyles with ease, so if you don't want to go for the chop, simply sweep and pin your hair to one side for a temporary asymmetrical look. This style looks best with curls or waves, so if you have straight hair, add some texture before you start styling. Or, go for a super casual look and add a low side braid.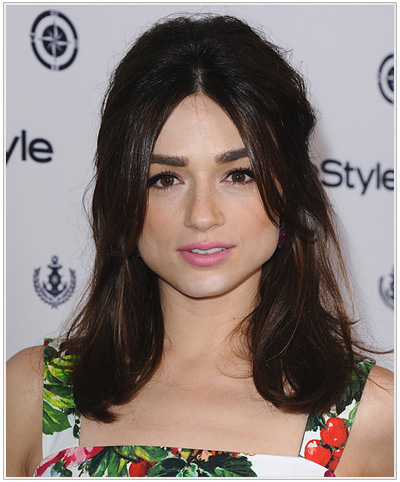 Here, Crystal is wearing a Sixties-inspired 'do that looks fabulous with her heart and square features. Had she been a true square without her narrow chin area, this look would be all wrong—Squares should never wear a center part or blunt ends. However, her blend of face shapes allows her to pull this style off flawlessly. If you have more square to your face shape, use a side part instead and sweep the bottom layers of the hair up. If you are more heart-shaped and lack the strong jawline of a square shaped face, this look will suit you as is!

We all have one face shape that really stands out, but study your face shape carefully for hints of other shapes to find even more hairstyles that will suit you.