If you have a heart-shaped face, you may get style inspiration from stars like Reese Witherspoon and Jennifer Love Hewitt but Crystal Reed is another one to watch. Her hairstyles always look great and suit the typical heart-shaped face: a wide forehead with a narrow chin. Let's take a look at some of her best hairstyles.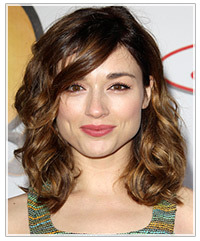 Here, Crystal looks fab in a curly shoulder-length bob. Her medium brown hair has been highlighted to a light cinnamon brown at the tips, which is a great way to draw attention away from a wide or high forehead. The deep side part and soft curls are also a good choice for hearts too!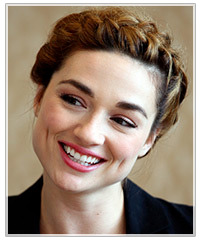 Here, Crystal looks fabulous in a braided updo, showing off her structured jawline and those adorable dimples! As a heart-shape, you should also take advantage of your bone structure and wear your hair up often. This coiled braid is an interesting alternative to a ponytail and works for more formal occasions.
Finally, Crystal shows how gorgeous a fringe looks with a heart-shaped face. This is the perfect hair fix for anyone who wants to hide a wide or high forehead too.
If you are a heart-shape, tell us which style of Crystal's you are most likely to flaunt!
To see how you'd look with any of the great hairstyles pictured in this blog, click on the above images to try the virtual hairstyles with your own photo!
You need to be a member to post comments. Sign up Or Login