Reese Witherspoon is known as one of "America's Sweethearts" for her down to earth personality and overall sugary sweet image. She has been on the big screen for years now and always manages to look great both on and off the red carpet, not to mention the fact that she doesn't age... ever! Reese looks just as youthful today as she did ten years ago, and while most women in Hollywood resort to plastic surgery, it seems that Reese hasn't been tempted to go under the knife just yet. (Or, if she has, she's managed to get a very natural-looking result!)

If you're a fan of Reese, you've probably noticed that she has been going for more sophisticated short hairstyles as of late, compared to the longer 'dos that she has been sporting in the past. These hairstyles not only give her a more professional image, but they also suit her heart-shaped face beautifully.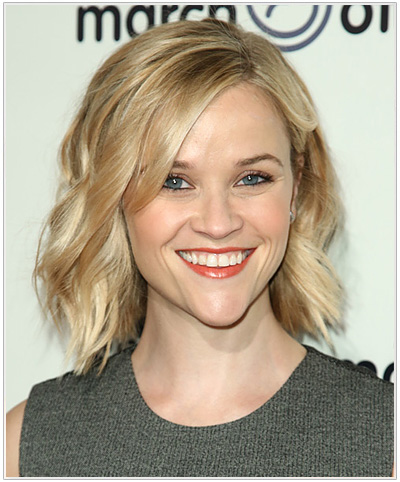 Here, we see Reese in a cute shoulder-length bob that has many layers cut in throughout the hairstyle to give her volume and body. Reese has a fine to medium hair texture that is naturally straight, which means that her hair can become flat if she doesn't have enough layers in her hairstyle. If you have the same hair texture then you may want to consider this no-nonsense hairstyle that looks fabulous worn wavy or straight.

Reese has a heart-shaped face with a prominent chin, so her soft waves are the perfect compliment to her features. The deep side part and side-swept fringe also work well to balance out her facial features overall. This hairstyle will work well on women who have heart, oval, oblong, square and diamond face shapes and who have a fine to medium hair thickness.

To create this hairstyle, you would first need to add some styling products to your towel-dried hair; a good roost-boosting mousse should do the trick. Then, blow-dry your hair straight and smooth. Finally, use a curling wand or flat iron on the lowest heat setting and twist sections of your hair to create these soft waves throughout. To hold, use some wax throughout to define the waves and then hairspray to keep it all in place.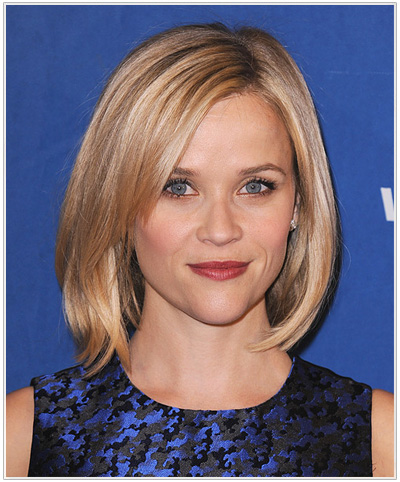 More recently, Reese has chosen a slightly shorter haircut that is worn straight and sleek. She has kept her long side swept fringe, which highlights her cheekbones nicely, and maintained a few layers throughout the ends.

To create this hairstyle, use a good roost-booster and mousse on your towel-dried hair to ensure you get maximum volume. Then, use a large round brush to blow-dry the hair sleek, concentrating on adding volume at the roots and then creating a rounded shape throughout the lengths and ends. If your hair tends to go limp or flat, add some backcombing at the crown to give you an added lift. Finally, use a strong hairspray to keep this hairstyle in check.

Reese is known as one of the smartest women in Hollywood, and her new hairstyle gives her a sophisticated and professional image to match. If you are searching for a simple hairstyle that is easy to do but has a classic style, one of Reese's layered bobs may be just the thing for you.