Is it time for you to update your hairstyle? Whether you have long hair and are considering the big chop, or you already have short hair and just need an update, there is no better place to look than the red carpet.

With access to the best hairstylists in the world, these celebrities are the first to showcase what is new in hair and makeup, with the exception of what is seen on the fashion runways. With that being said, we all know that runway hairstyles are usually more fantasy than reality, so it's better to copy celebrity hairstyles if you want to turn heads for looking good, not avant-garde! Here are the latest short hairstyles direct from the red carpet to get you inspired.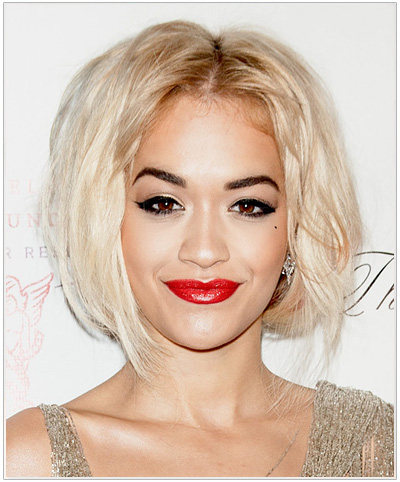 Rita Ora seems to be everywhere lately, and no one really knows why. For those who haven't heard of her, she's a singer from the UK who has been sprouting up in fashion campaigns everywhere lately from DKNY to Chanel. Yes, you read right—Chanel. We can't figure that one out either.

In any case, her platinum bob is quite a cute hairstyle that looks great when it's all dolled up in loose, messy waves as seen here. This hairstyle will suit oval, oblong, square and diamond shaped faces, and the colour will work on any skin tone that has a cool undertone.

To style, add a roost-boosting mousse and part in the centre. Blow-dry using a large round brush to add in volume and body. Then, use a waving iron on low heat to add these barely-there waves. Use the iron randomly throughout the hair, leaving the ends curled under like Rita has done here.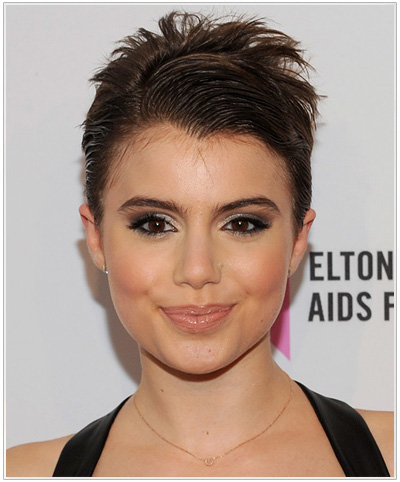 Sami Gayle is looking funky in a messy pixie cut with attitude! This short 'do will suit all face shapes except square, rectangular and oblong. It is best for women who like to put minimal styling time into their hair and who love to have their face as the centre of attention—this is one hairstyle that is not for wallflowers, that's for sure! To style this tapered hairstyle, use a small round brush to dry the hair at the crown straight up for volume. Then, use a comb and styling gel to slick the sides back and the hair to one side, once parted.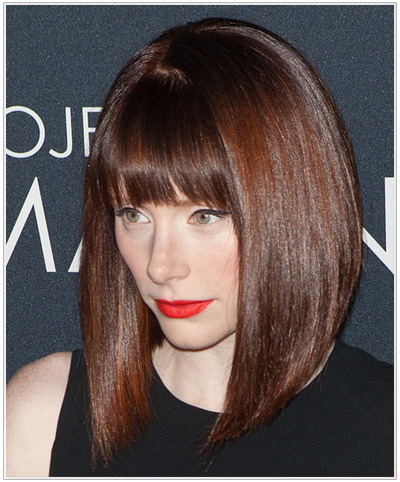 Here, Bryce Dallas Howard shows off a graduated bob with blunt bangs that looks amazing! This haircut looks chic and fashionable thanks to the precision cut and rich monotone colour. This is a fabulous haircut for ladies with oval, oblong and square face shapes that want a low maintenance but high-powered haircut that will get them noticed. To style, blow dry this haircut sleek with a round brush and then use a flat iron to finish it off, if desired.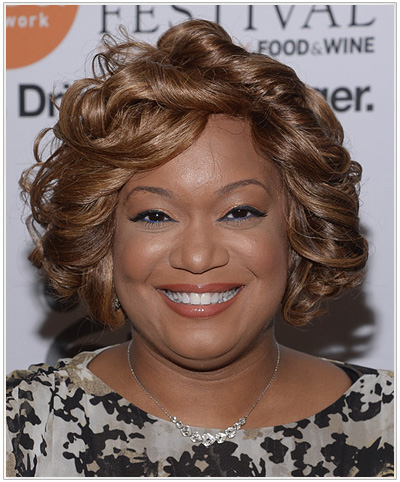 For ladies who want a more mature and sophisticated short hairstyle, check out Sunny Anderson's curly layered hairstyle. This haircut looks great on all face shapes except for round and triangular. To style, rollers or a curling iron is needed to curl sections of the hair away from the face, followed by a strong hairspray to keep it all in place. Sunny's hairstyle also shows off her golden brown highlights beautifully and makes her complexion glow.

Four different celebrities with four very different short hairstyles—which one are you most likely to get next time you are in the salon?