Eye Shadow Basics
By Kate
If you don't have a clue what to do when it comes to using eye shadow then check out these basics and tips.
While adding eye shadow to your eyes might be a relatively easy process (after all, all you need to do is sweep the color over your lids), knowing how to apply your eye shadow properly and what color to choose does require some basic know-how and skill. And we have all the info to help you right here…
Eye Shadow Basics

Eye Shadows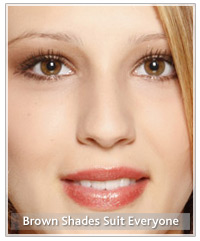 When it comes to modern eye shadows, the types, range and choice of colors available today is almost limitless. And although this is great, it can also be pretty overwhelming. So help you out, keep these tips in mind…

If you're a first time user of eye shadow then we recommend sticking to powder shadows until you're used to applying makeup, as cream, mousse and pencil eye shadow varieties can be tricky to use.

When it comes to color, look for shades that are neutral (light brown earth shades are universally flattering and will pretty much suit every skin tone) and ones that will match your eye color.

You'll find that most eye shadows come in a trio of complimenting shades in different depths of color which are designed to work together. If you're not sure what shades to use together then these packs are really handy because they do all the guesswork for you.

Eye shadows are also available in single color options, which allow you to restock a specific color or give a bolder color a try without being stuck with other shades you might not use.
Eye Shadow Brushes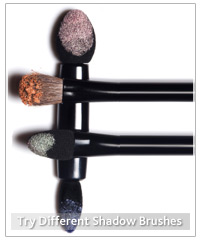 To apply eye shadow you'll need an eye shadow brush and to keep these guidelines in mind...

Most brands that sell the eye shadows in trio packs include a pointed tip sponge brush that you can use to apply your shadow. Due to the sponge, tip and size of the brush, they can be fiddly to use, however, and will usually apply the shadow very heavily.

Alternatively, you can buy eye shadow brushes that have a long handle and a brush made of soft bristles. This allows you to apply a lighter coat of shadow and gives greater application control.

When it comes to deciding on the type of eye shadow brush to use, we recommend giving both types a try and then using the one you prefer.

Like all brushes that get regular use (other makeup brushes and your hair brush etc), your eye shadow brush should be cleaned at least once a month with some mild shampoo and warm water and then left to air dry.
Eye Shadow Application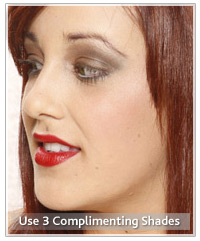 When it comes to the application of eye shadow, remember these rules…

To apply eye shadow you just need to dip your brush into the product, blow off any excess powder and then sweep it across your eyelid.

The best place to start is from the lower inner eye of your top lid and go right out to the edge of your eye.

The most important tip to remember when applying eye shadow is to blend the shadow with your brush. The color should look like it naturally belongs on your eye and there should not be any visible harsh lines or edges.

Try applying a light coat of shadow first and then build it up with further coats (and blending) until you've got the depth and color that you want.

Use the three color rule of choosing three complimenting eye shadows (this is where those trio packs come in handy) and sweep the lightest shade over your entire eye area, the medium shade on your eyelid only, and the darkest shade over the crease of your eye.

Our final eye shadow rule is to start with neutral tones first and then work your way into creating dark, dramatic looks or bright, funky looks when you've become used to blending the shadows together and are confidant with what works for you.
We hope these eye shadow basics will help you create a great look for your eyes. For more makeup tips, check out our beauty articles and beauty blogs.