It's been a while since she has graced the television and film screens but Jennifer Love Hewitt still makes the headlines. Unfortunately, it's now for things like her romantic life, weight gain, subsequent weight loss and other trivial matters, but in any case, there's no denying she is a beautiful woman that always looks feminine and glowing.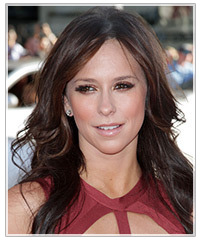 Women with heart shaped faces—take note! Long and layered is the way to go. Jennifer's best looks are past the shoulder, with lots of hair layers and romantic waves added in the ends to offset her pointed chin. This hairstyle will really flaunt those high cheekbones that heart face shapes are famous for.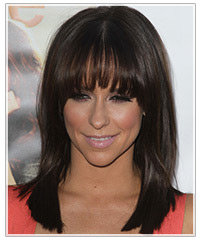 If you prefer something more edgy and modern, try Jennifer's blunt bangs and bob hairstyle in a dark and dramatic color. This cut brings all the attention to her large doe eyes and instantly adds thickness and volume to her hair.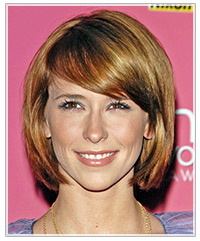 Now, for a hair don't. This brassy, chin length bob with a side-swept fringe is too heavy for Jen's delicate heart shaped face. If you want a shorter 'do, opt for a graduated bob with lots of layers instead. You'll look younger and trendier than JLH in this unfortunate photo!
See more Jennifer Love Hewitt looks and try the hairstyles on with your own photo.
You need to be a member to post comments. Sign up Or Login