Part Two: Creating Curls
What You'll Need
A Wide Tooth Comb
A Hair-dryer
A Straightening Iron
Hair Moisturizer
A Tail Comb
Butterfly Clips
Thermal Protection Spray
Straightening Balm
Smoothing Shine
Hairspray
A Paddle Brush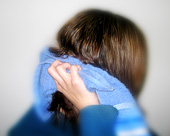 Step 1 - Shampoo and condition the hair and then towel dry.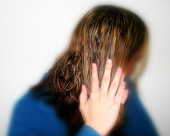 Step 2 - Apply a small amount of straightening balm and a small amount of hair moisturizer to the mid-lengths and the ends of your hair. It's important to make sure that you do not get any straightening balm on your roots as it will be heavy on the hair and will make it look oily. Using your wide tooth comb, comb the hair so there are no tangles.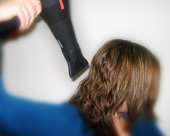 Step 3 - Your hair needs to be dry to use the straightening iron so you will have to dry it off with a hair-dryer. After drying, smooth your hair down with your paddle brush. This will ensure that your strands are as smooth as possible and will give you a better end result.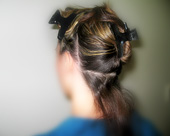 Step 4 - Part your hair into place and then section your hair into 3 sections before leaving a 1 inch thick section out at your nape.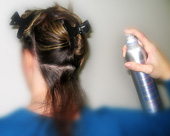 Step 5 - Holding the thermal protection spray about 1 inch from your first section, lightly spray the first section of hair and then repeat in every other section before you run the iron through to protect your hair from iron's harsh heat.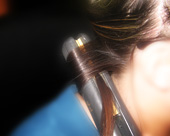 Step 6 - Holding a 1 inch wide section, place the iron vertically at the base, clamping on the hair lightly. Now, start to turn the iron and clamp down with more pressure, letting the hair run through to the ends. If you keep the iron close to the scalp the curls will be fuller.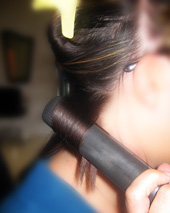 Step 7 - Make your way up the back of your hair, section by section, and then do the side sections in the same 1 inch pattern.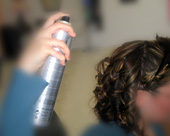 Step 8 - Once you have finished, spray a fine layer of hairspray over the top of your style. For extra shine, apply shine spray as well.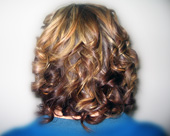 Finished Result!
Practice makes perfect with this one! It will take time to get it right, so persevere. Now that you know how to create curls, take a look at part 3 of our straightening special to find out how to flick!