Part One: Straightening
What You'll Need
A Wide Tooth Comb
A Hair-dryer
A Straightening Iron
Hair Moisturizer
A Tail Comb
Butterfly Clips
Thermal Protection Spray
Straightening Balm
Smoothing Shine
Hairspray
A Paddle Brush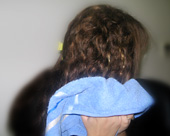 Step 1 - Shampoo and condition the hair and then towel dry.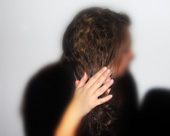 Step 2 - Apply a small amount of straightening balm and a small amount of hair moisturizer to the mid-lengths and the ends of your hair. It's important to make sure that you do not get any straightening balm on your roots as it will be heavy on the hair and will make it look oily. Using your wide tooth comb, comb the hair so there are no tangles.
Step 3 - Your hair needs to be dry to use the straightening iron so you will have to dry it off with a hair-dryer. Remember to aim the air down the hair shaft to minimize frizz and to make the hair easier to straighten. If your hair is very curly or frizzy, run through it with a paddle brush to smooth the hair out and to help achieve a smoother result once the hair has been ironed.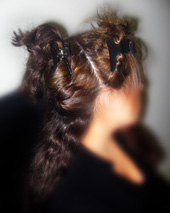 Step 4 - Part your hair into place and then section your hair into 3 sections and leave a 1 inch section out at your nape.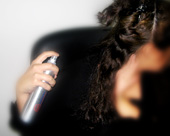 Step 5 - Holding the thermal protection spray approximately 1 inch from your first section, lightly spritz the spray into the hair. Repeat this step in every section before you run the iron through to protect your hair from the harshness of the heat of the iron.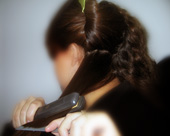 Step 6 - Now it's time to start straightening. Place the comb in your first section at the base of your hair and slightly slide the comb down and place the iron right above it in a horizontal position. Keep sliding the comb and the straightener directly down to the ends of your hair, keeping the hot irons vertical the whole time.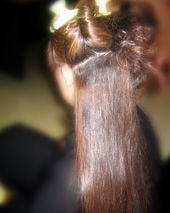 Step 7 - Work your way through the back of your hair remembering to lightly spray thermal protection spray in each section. Once you've completed one section, continue to the other two sections using the same method.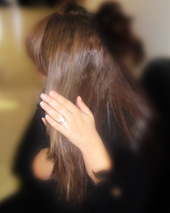 Step 8 - Now that you've finished, apply a drop of smoothing shine into the palms of your hair and then rub them together before dispensing the smoothing shine to the mid-lengths and ends to tame any frizzy bits.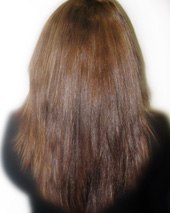 Finished Result!
Now that you know how to straighten, take a look at part 2 and part 3 of our hair straightener special to find out how to flick and curl!