Virtual Hairstyler
For the ultimate risk-free way to find your perfect hairdo, try the Virtual Hairstyler! Upload your photo and view yourself with over 9,500 hairstyles, 50 hair colors, 35 highlights and makeup. Find your perfect hairstyle and never have a bad hair day again!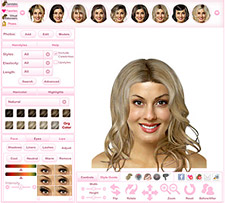 To view the Virtual Hairstyler you will need Adobe
Flash. At the moment our Virtual Hairstyler is
optimised for large screens only.

View the Virtual Hairstyler full site version.