Hairstyles Gallery: Pictures from the MTV Movie Awards, 2007
By Paola
Celebrity hairstyles are constantly changing and new looks are emerging all the time. But don't worry because TheHairStyler.com's coverage of celebrity events will keep you clued-in about all the hairstyle trends.
Lauren Conrad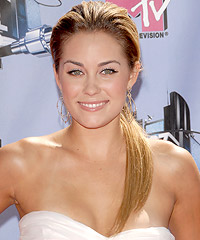 Lauren kept her look simple and sweet as she walked the red carpet. Her hair was pinned back into a low ponytail to give her face all the attention. This style will work well in rain, hail or shine.
Victoria Beckham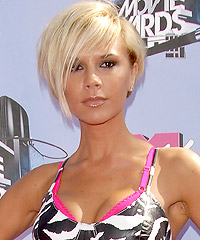 Victoria was definitely the main attraction on the red carpet. Her hair was cut into a very sexy concave bob which featured long side bangs on the right side. Her hair was also cut with a razor to create lots of defined texture and extra wispy ends. To finish, body was added to the top of her hair to add thickness through her fine hair.
Rihanna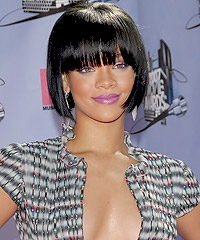 This sexy 'do was Rihanna's look for the red carpet and it was definitely a head turner! Her hair was cut into a blunt bob that fell to just below her jaw line and blunt edges were added to create a solid finish. Bangs, such as the ones seen here on Rihanna, are a great option to use to cover a high hairline. This is a great hairstyle for those with straight hair as it will make it easier to style this look.
Mandy Moore
Mandy kept her look simple but stylish as she walked the red carpet. By pinning her golden tresses back, Mandy's style gives her facial features all the attention. To achieve her look, her hair was pinned low and shaped around her neck. This style will work well in all weather conditions.
Jessica Biel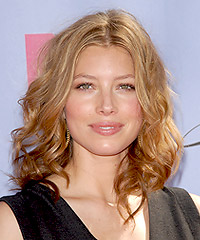 Jessica looked gorgeous with these soft curls, which added lots of body to her hair. Her hair was cut to sit on her shoulders and her ends were layered to add texture, body and to enhance her curls. This is a great hairstyle for diamond face shapes because the weight through the mid-lengths and ends will bring more shape to the face.
Paris Hilton
The ever-so-popular Paris kept her style elegant and full as she walked the red carpet. To achieve these soft and sexy waves, soft layers were graduated around her top and sides and were blended through to her ends. By pinning her hair off to one side, Paris has enhanced her neck and created a great look for a strapless gown.