Once you've decided to go for the chop and cut your hair short, the next big decision is working out what type of haircut to try. If the task feels too daunting then this short haircut advice should help you to choose the right cut.
Short Haircut Advice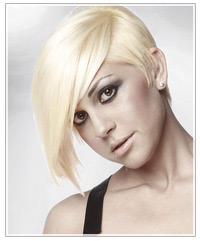 As with any haircut, always consider your face shape. As a general guide for short 'dos, if your face is oval then any short length will do. For square face shapes, avoid really, really short styles. Round faces should choose a short cut with height and some length through the top and around the sides. For longer faces (like diamond and oblong), avoid anything too short as it will only enhance your pointy chin.

Get a versatile cut. Just because your hair is short it doesn't mean you don't have plenty of styling options. Choose a cut that will maximize the different ways you can wear your hair and ask your hairstylist to show you different ways to style your locks with various hair styling products and heated styling tools.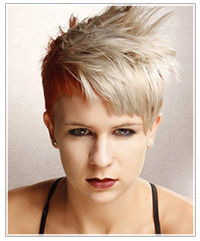 Choose a short haircut that will revitalize your locks. Short hair not only creates a fantastic new look, it can also make your hair healthier if it's damaged, make fine hair appear thicker and cut hours out of your hairstyling routine. Talk to your hairstylist when in the salon about your current hair condition and what type of short haircut can help you get great looking, healthy hair.

Don't expect an exact copy of the cut from your picture. If the style you decide on is from an image that you took in, or one that you tried on your own photo (give our Virtual Hairstyler a try here) then don't expect the haircut to be exact. A good hairstylist will adapt the style to suit your hair type, texture, face shape and other personal, individual characteristics. The trademark of a great haircut is a look that is tailored to you specifically, so not ending up with a carbon copy haircut is a good thing.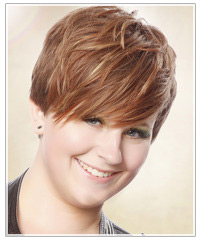 Our final short haircut tip to consider is to remember the upkeep. Short haircuts, especially pixie haircuts or blunt bob hairstyles, will always look sleek and stunning when maintained so don't cut your locks into a great short 'do and then forget about regular trims! Most short haircuts will require a visit to your salon every 4 to 6 weeks to keep your style looking fabulous and in shape.
We hope this advice will help you to pick out a short haircut that you won't regret. For further inspiration, take a look at our range of hairstyles.
To see how you'd look with any of the salon hairstyles pictured in this article, click on the above images to try the virtual hairstyles with your own photo!