Eighteen-year-old Maddie Hasson has got a great head of hair to work with, not to mention a fabulous face for a makeup canvas! While she usually goes for natural looks, here she has chosen a slightly darker makeup palette and messy bedhead look which is a departure from her usual sculpted curls that she likes to flaunt. If you like Maddie's latest look and want to recreate it at home, here's how!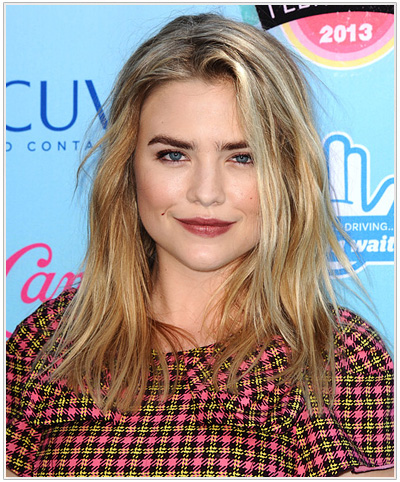 Note: This hairstyle will work best for straight or wavy hair that is medium to long in length. It will also suit all face shapes, with the exception of circular. The makeup will work for fair to dark skin, but the colours may have to be adjusted based on your skin and eye colour for best results.

First, let's find out how you can get this hairstyle. Maddie's hair is naturally straight so if this applies to you as well, keep reading.

1. After you have washed your hair, work in a lightweight mousse or styling gel that will give some extra texture and hold to your hair.

2. Start blow-drying your hair with your head upside down, focusing the airflow on the roots. Once they are all dry, give them a shot of cold air and then flip your head right side up.

3. Create the messy finish by drying the lengths and ends as you scrunch your hair in between your fingers. Grab a section of hair, scrunch, hold, blow-dry and repeat!

4. Once you have finished, create a messy part with your finger and then use styling wax to twist some of the ends and separate them, Spray the hold hairstyle in place.

Note: If you prefer to go easy on the heat styling then simply let your hair air-dry while it is wrapped up in large, random sections (about 6-8 around the whole head) You can either create small buns with the sections or twist them around pencils for a more jagged-looking wave.

* For those who have natural wave or curl to your hair, you can get this look by blow-drying it straight first and then twisting your hair up into 6 to 8 little buns randomly around your head. Use the blow dryer to add heat to each bun, then give it a blast of cool air and unwrap. You will have loose kinks in your hair like Maddie. Continue to step 4.

To get her simple but sophisticated makeup look, start by sweeping a deep plum shade on the bottom half of the eyelid, right next to the lash line. Follow it up with a dark chocolate brown shade that is applied just on the outer third portion of the eyelid. Finally, use a deep chocolate brown eyeliner to line the top and bottom lash line and then coat the eyelashes in brown or black mascara.

On the cheeks, choose a warm beige-pink shade that will give just a hint of natural colour. Then apply a deep berry stain to the lips. If you have darker skin, you can even go for a plum or purple shade to really vamp this look up!

This hair and makeup is easy to do and looks ultra-cool—have fun creating this messy do' and work those plum tones in your makeup!