Talk show host and news anchor Julie Chen is a seasoned professional when it comes to being in front of the camera, so it's no wonder she is always sporting hairstyles that really pack in a style punch! Julie has large, expressive features and needs a hairstyle that will compliment her charismatic personality, so she often goes for high volume 'dos that are heavily styled, as most TV personalities do. Julie also keeps her hairstyles looking professional and business-like, so don't expect her to be sporting an edgy asymmetrical haircut anytime soon. If you love Julie Chen's hairstyles, check out the image gallery below and find out how you can achieve the same look. But remember, Julie has poker straight Asian hair, so if you have another texture then you will get different results.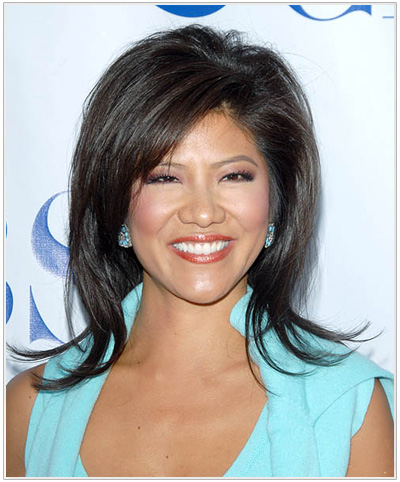 This is one of Julie's older looks when she was flaunting a more structured cut. Not to say that just because she wore this a while ago, it's out of fashion- quite the contrary. This high-volume hairstyle can still be seen on many professional women who want a sophisticated look. You can get this at the salon by asking for a shoulder-length cut that is heavily layered at the ends for a tapered look. Julie's fringe also has razored edges and drapes nicely across her face. The jagged layers in Julie's cut is a great way to add volume and body to naturally straight hair. She pairs this hairstyle up with warm apricot eye shadow and tawny lipstick which results in a warm, glowing look.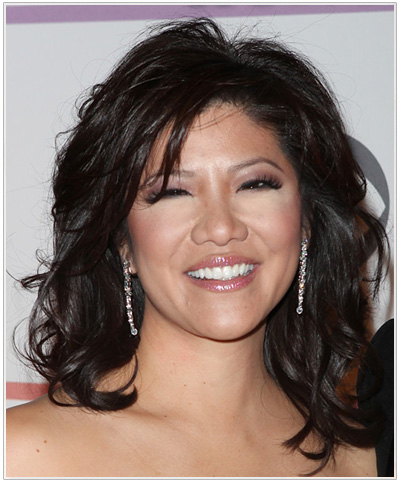 Here, Julie goes for a softer look by growing her layers out to a more uniform length and adding some soft curls. This look can be achieved by asking your stylist for a cut with a few soft layers throughout the lengths and ends, with a soft side-swept fringe. To style, simply use rollers to create big curls full of bounce. Then, separate the curls with a pick or your fingers and finish it off with hairspray to maintain the curls. Julie has teamed this hairstyle up with soft neutral shades of eye shadow, lipstick and blush that looks amazing with her warm complexion.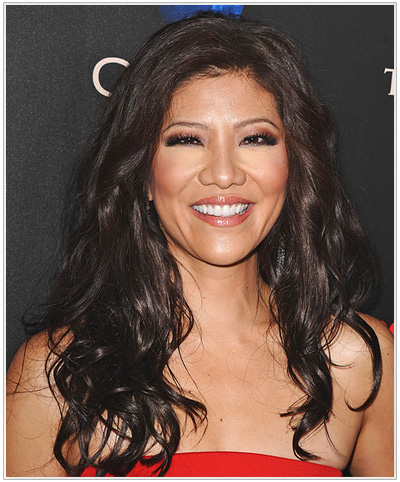 In her most recent look, it seems that time is actually moving backwards! Julie looks fresh and youthful in long, flowing waves and a grown out fringe. If you want to copy this look in a hurry, try using using extensions as Julie has done to instantly add length. Once you have the length, you can easily create this hairstyle using rollers, a curling iron or a curling wand to create these gorgeous waves. Julie has used a seductive smoky eye and glossy pink lips to really vamp up her overall image!

As you can see from the first and third photos, Julie's look dramatically changes with her hairstyle. As she moves from high volume layers to long, soft waves, Julie's image becomes more youthful and relaxed. This reflects her career path as well as she moves from news anchor to daytime and prime time TV host. Which look of Julie's is your favourite?