A great evening look doesn't have to involve complicated styling, expensive products or professional tools. Sometimes a simple hairstyle suits any evening occasion and works with any hair texture is better than an uber fancy or complicated look. If you want to show off a killer outfit or piece of jewelry, it is even more important to have your hair as a stunning supportive act, rather than take center stage. If this sounds like what you need for your next night out, then look no further than a side swept 'do for your next evening hairstyle.
Wavy Side Swept Hairstyle
While waves look great when left long and loose, you can create an ultra feminine look with a twist by instead by side sweeping them around to one side. Divide your locks using a deep side part so that your wavy strands will automatically fall across your face and then sweep your strands down around the nape of your neck and pin them into place. If your hair has a natural wave then you will be left with a soft, casual style that will suit a night out with friends or a movie date. If your locks need some waves added in, usese a large curling wand or large hair rollers to add thick, loose waves to create a gorgeous finish.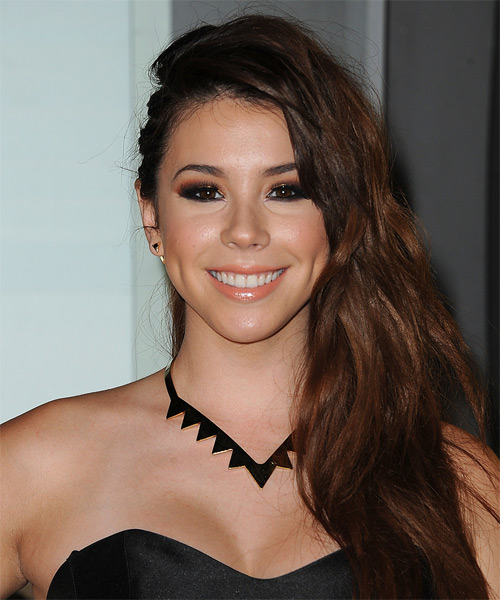 Jillian Rose Reed creates a fun and funky evening look here by sweeping her tousled waves to one side, highlighting the natural body and texture in her hair. Pairing this 'do up with a simple black dress and gold necklace creates a simple but fashion forward look for a night out!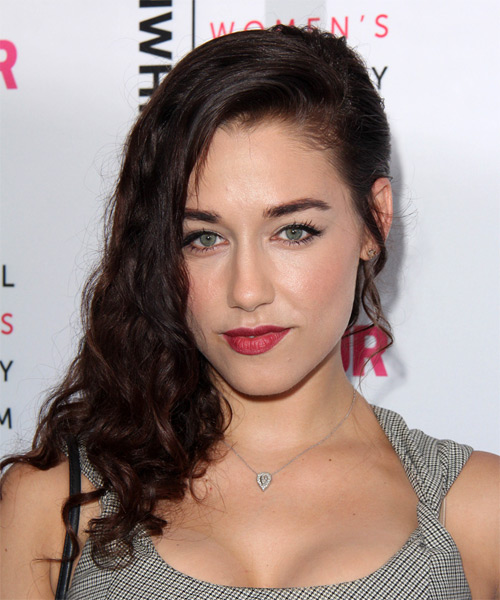 Jade Tailor shows off her natural curls here with this casual side swept 'do. She has gone for a flipped over part to add height at the crown and create a sexy finish. A few tendrils left out around the ear gives this hairstyle an ultra feminine finish.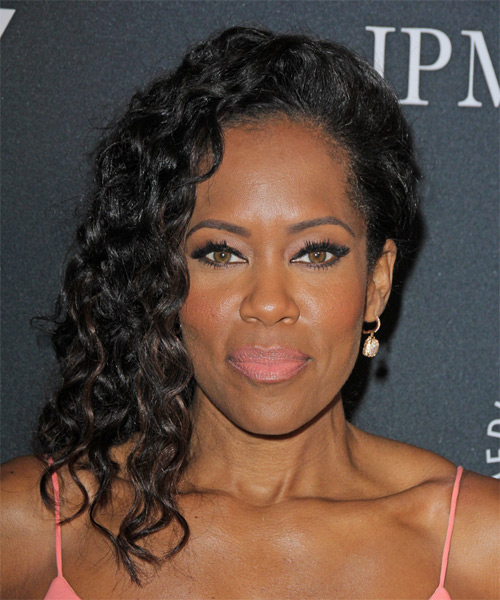 Regina King glams up her curly locks here with a side swept 'do that shows off her corkscrew curls perfectly. Rather that go for a deep side part and a sculpted look, Regina has opted to flip her hair over for extra volume at the crown, which also results in an edgy and fun look.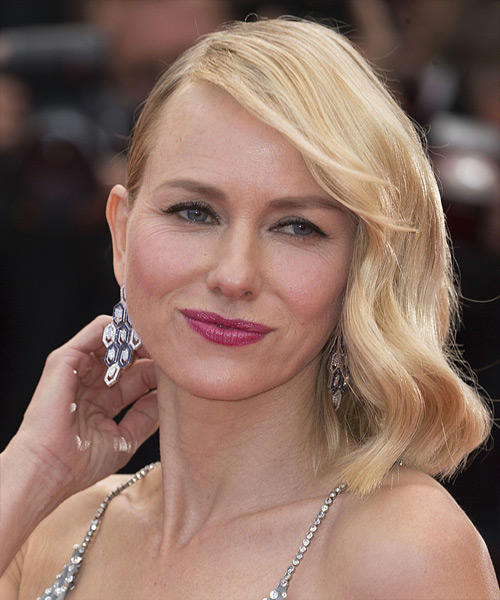 Naomi Watt's barely-there waves complete this side swept hairstyle brilliantly. This is a more formal look that has a hint of Roaring Twenties style to it for added glamour.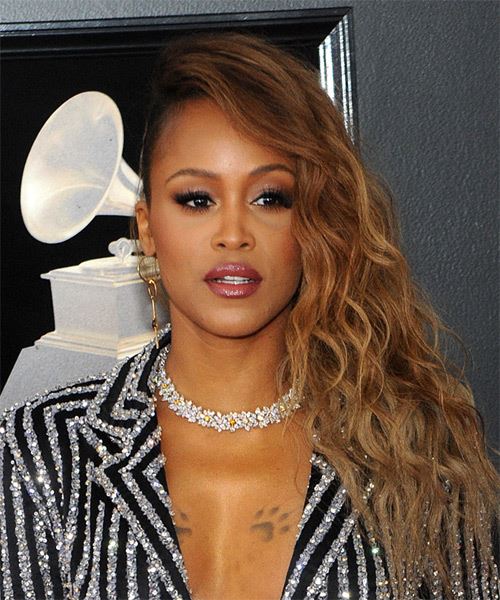 Eve looks stunning here with her natural waves draping over one shoulder while the other side has been tightly pulled back for a cool side swept look. This 'do matches her edgy and cool sense of style perfectly and can work for both day and night.
Asymmetrical Side Swept Hairstyle
Those with asymmetrical haircuts can also get in on some side swept action and create a look that is perfect for a party or to wear to a club. By pinning back half of your hair, you allow the rest to be put on display, so let the longer section of your asymmetrical haircut garner all the attention. A hair part can be used to help you style your hair, or you can try for a 'no part' look by brushing all of your hair across the top of your head without adding a defining part.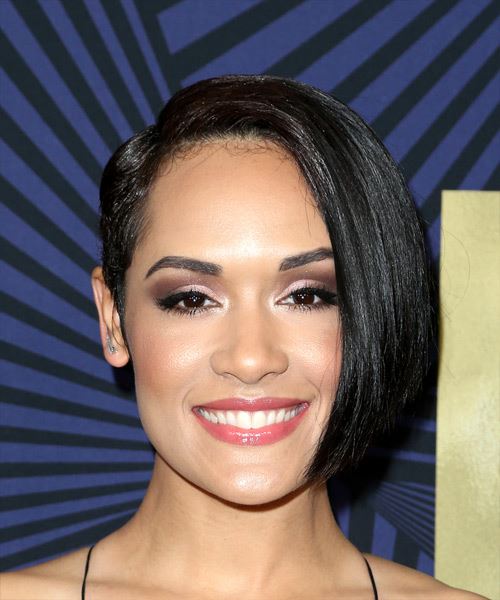 Grace Gealey looks super chic here with her asymmetrical bob styled into a side swept look. The short side has been gelled down flat to the head while the longer length is left out and styled sleek and straight for a stunning finish.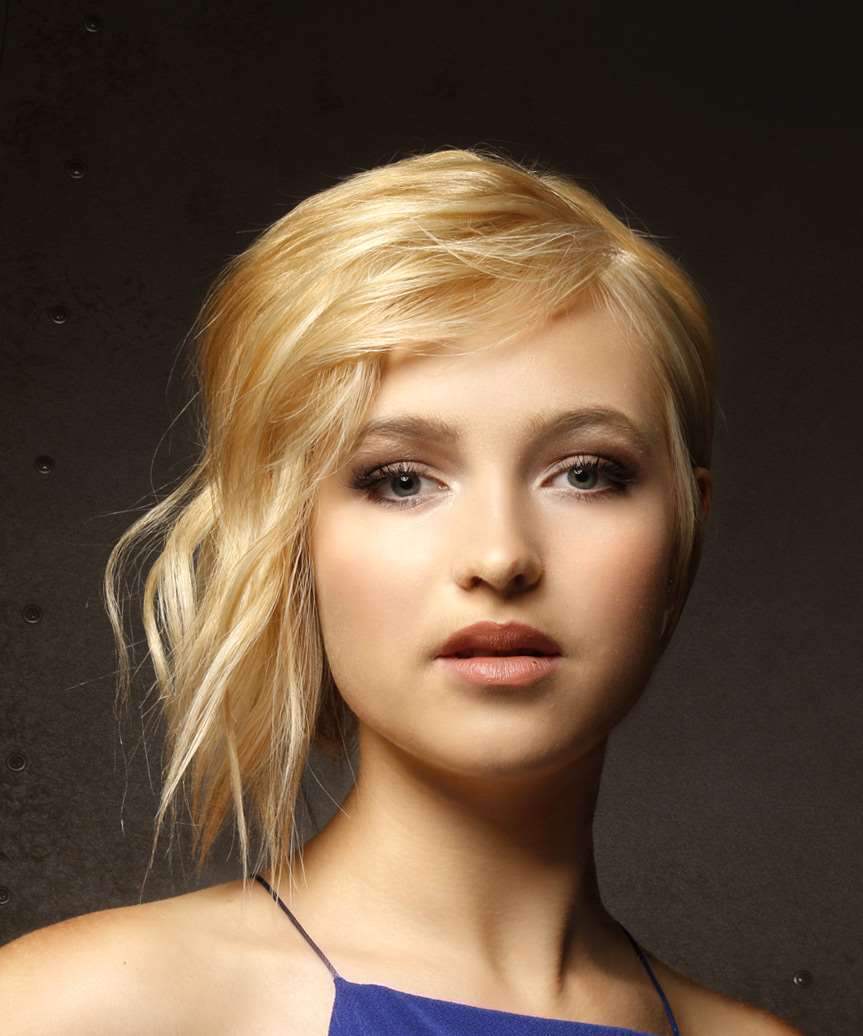 Our model makes the most of her asymmetrical haircut here by sweeping her locks over to one side and styling them in large, kinky waves for texture and body. The other side has been styled down sleek and smooth to enhance her hair cut even more and really create that side swept look on her short hair.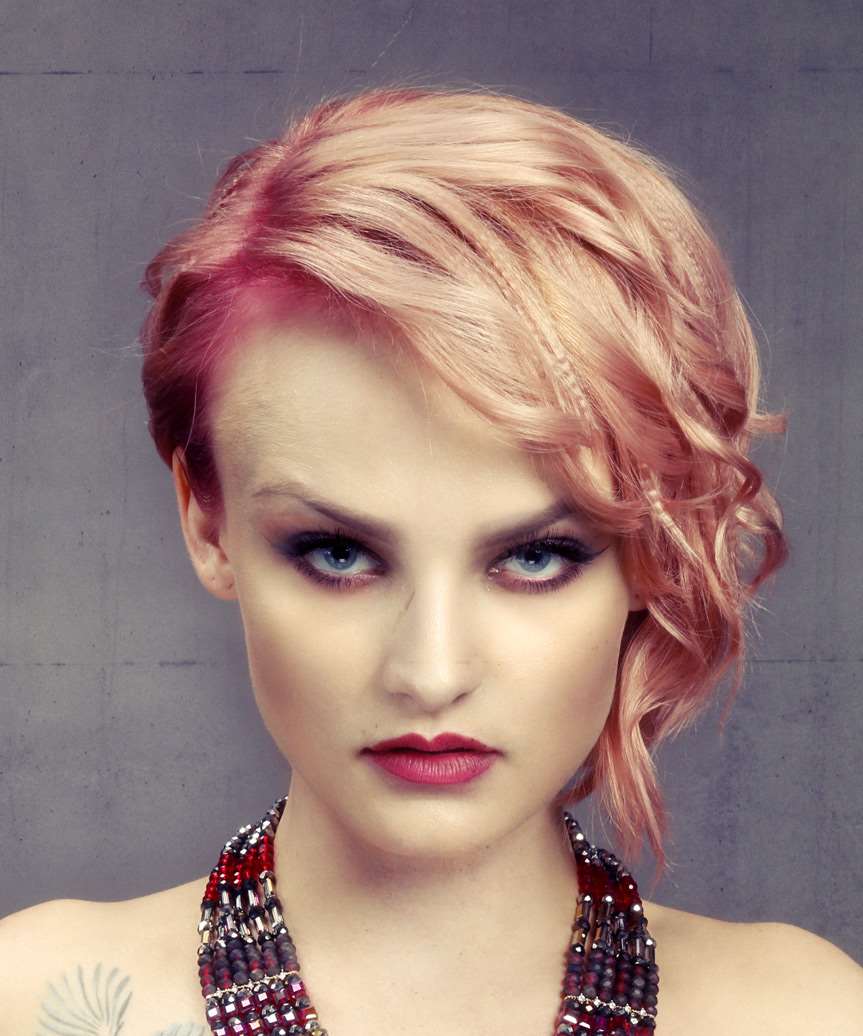 Our model shows off her funky pink asymmetrical haircut here by twisting one side back and leaving the longer side out, highlighting her small sections of crimped hair mixed in with corkscrew curls. This is a great way for ladies with short, layered asymmetrical 'dos to enhance their locks even further.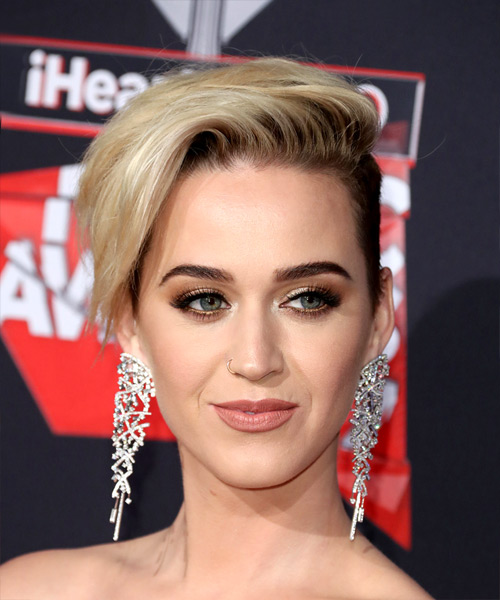 Katy Perry goes for a windblown side swept look here by sweeping the long portion of her asymmetrical cut over, adding volume at the top of her crown. The sides are clipper cut short in this 'do, allowing all of the focus to go to the long blonde layers at the top. To show off your side swept asymmetrical haircut even more, consider going for a two-tone look like Katy for an edgy vibe.
Formal Side Swept Hairstyle
If your evening out will involve a more formal event, such as a wedding or fancy dinner, then you can still sport a side swept style, just ensure it has some elegant finishing touches. These can include waves or curls that are formed and styled with plenty of definition, or sleek, glossy straight locks that have lots of shine. The finish in the texture of your hair is what will set your side style up for a great look, so make sure it's on point. Also make sure when you side style that your hair is fixed securely in place with hair pins that match your hair color so they can't be seen, or with decorative pins that you want to show off.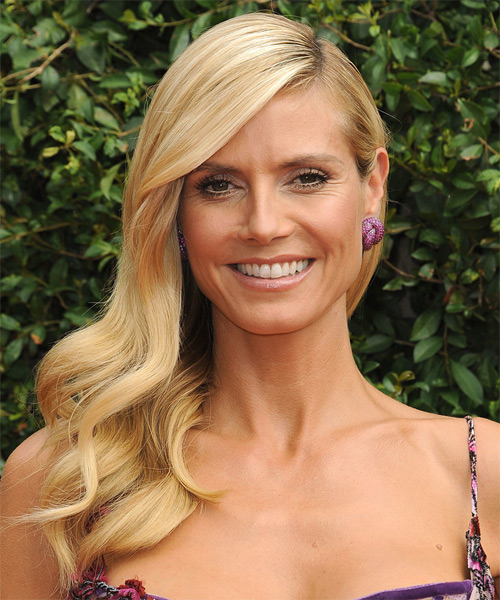 Perfect for a formal occasion like a wedding or evening event, this smooth and polished side swept 'do will add class and glamour to anyone's look. Heidi Klum's honey blonde locks have been blow dried smooth and sleek, deep-parted on one side and swept around, leaving her large tumbling waves to fall on the other shoulder. This dazzling look shows off her strapless dress and gorgeous purple earrings.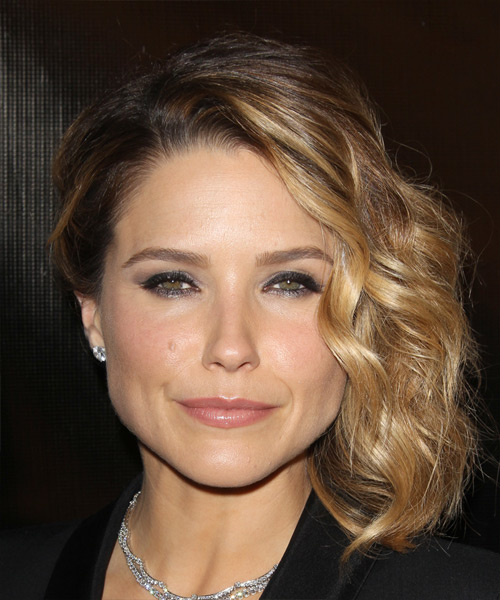 A formal side swept hairstyle can work on any hair length including a short bob, as seen here on Sophia Bush. Her locks have been swept to one side while the lengths on the longer side have been curled with a wand to create defined, glossy waves.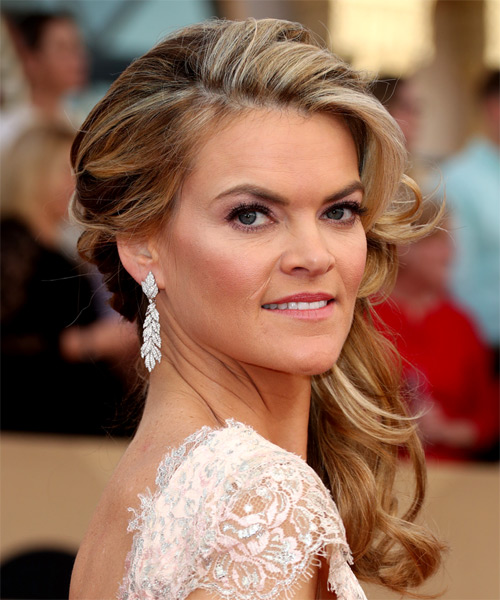 Missi Pyle amps up the glamour here with her large, super coiffed curls that have been swept to one side, showing off her stunning earrings and the backless cut of her gown. Rather than go for a part like Heidi did (see above), Missi has created oodles of volume at the top by backcombing the roots, then flipping the hair over for a part-less look.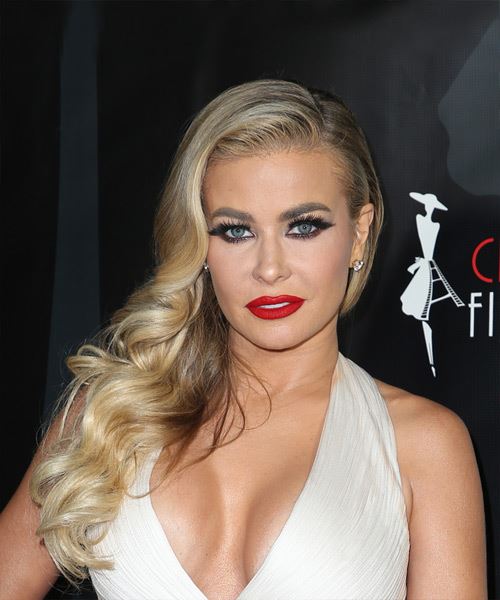 For the ultimate glamourpuss look, copy Carmen Electra's 'do here and go for Old Hollywood style curls with a sharp side part and one side swept back. This is a classic and elegant look that can be recreated on long and medium length hair.
Click on any of these styles to try them on! And, there are thousands more at thehairstyler.com just waiting to be tried on.