A great evening look doesn't have to involve complicated styling, nor should you give any styling a miss just to save time. Instead, opt for a simple hairstyle that will suit any evening occasion, can work with any hair texture, and only takes minutes to pull together.
Wavy Side Swept Hairstyle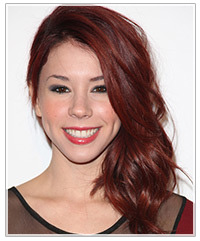 While waves look great when draped down your back, put them front and center instead by side sweeping them. Divide your locks using a deep side part so that your wavy strands will automatically fall across your face and then sweep your strands down around the nape of your neck and pin them into place. If your hair has a natural wave then you will be left with a soft, casual style that will suit a night out with friends or a movie date. If your locks need some waves added in, use a large curling wand or large hair rollers to add thick, loose waves to create a casual finish.
Asymmetrical Side Swept Hairstyle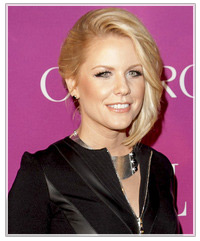 Those with asymmetrical hair can also get in on some side swept action and create a look that is perfect for a party or to wear to a club. By pinning back half of your hair, you allow the rest to be put on display, so let the longer section of your asymmetrical haircut garner all the attention. A hair part can be used to help you style your hair, or as seen here, you can try for a 'no part' look by brushing all of your hair across the top of your head without adding a defining part. To really make the most of your side style and haircut, ensure your strands are straight as this is the best texture for highlighting an asymmetrical haircut, and it will also give you a fabulous finish when your hair is side swept.
Formal Side Swept Hairstyle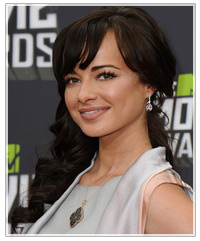 If your evening out will involve a more formal event, such as a wedding or fancy dinner, then you can still sport a side swept style, just ensure it has some elegant finishing touches. These can include waves or curls that are formed and styled with plenty of definition, or sleek, glossy straight locks that have lots of shine. The finish in the texture of your hair is what will set your side style up for a great look, so make sure it's on point. Also make sure when you side style that your hair is fixed securely in place with hair pins that match your hair color so they can't be seen, or with decorative pins that you want to show off.