Having long hair is great for versatility, but anyone with this length knows that at times, it can be a pain to style—especially when it comes to the evening. If you need some ideas for half-up, half-down hairstyles, then look no further. We've put together some of the latest (and easiest to do) half-up 'dos, straight from the red carpet. Have a look and get some style inspiration for your next night out.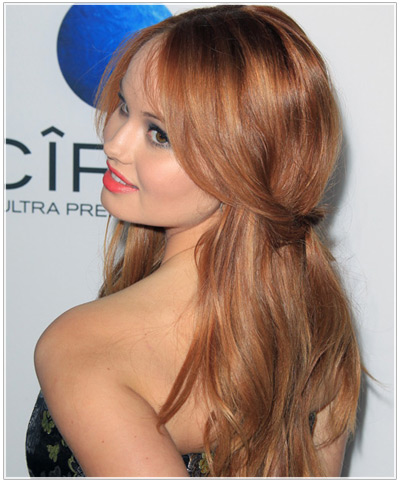 Here, Debby Ryan is wearing a gorgeous hairstyle that shows off her long, copper locks. Although this isn't technically a half-up, half-down hairstyle, it does the trick when you want to pin your hair away from your face but leave the back long and flowing. Debby achieved this style by first styling her hair with long, loose waves throughout the lengths and ends. Then, she grabbed the front sections on either side of her part and loosely twisted them around to the back before pinning them into place at the back of the head.
Tip: To keep the twists in place, grab a small section from the under layer on the back of the head and incorporate it into the twist. Check out the photo and notice the small section that Debby has weaved in to keep her 'do in place.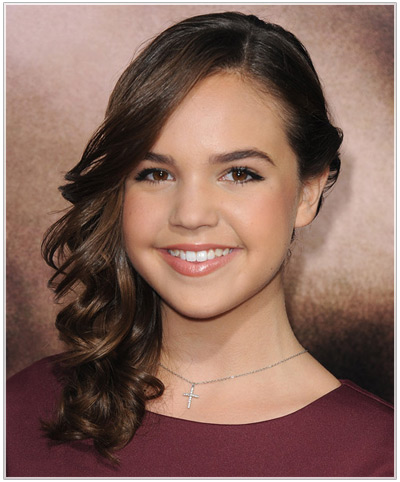 Bailee Madison shows us another take on the half-up, half-down look. Instead of pinning up the top half of her hair, she has chosen to put up one side of her hair while leaving the other down. This hairstyle can work on any hair length but tends to look best on medium to long hair. To create this look, simply twist the hair from one side of the head around the back of the head and pin it into place at the nape of the neck. Adding waves or curls to the side that is left down will give this hairstyle a more formal look, but straight hair can also look super sleek and chic.
Lindy Booth demonstrates the perfect half-up hairstyle for those ladies who prefer a high volume 'do. This hairstyle has a retro feel to it, which is created by using volume-enhancing products like mousse on towel-dried hair before styling, and backcombing the roots prior to putting the hair up to create a bouffant at the crown. Lindy has maintained her part in this style but the hair can also be swept back without a part, if preferred. To create this look, style the hair as normal, building up volume in the crown. Then, take the top section of hair and loosely secure it at the back of the head, allowing the volume at the crown to be maintained. Lindy has soft waves in her hair but this hairstyle would also look fabulous with super straight locks as well.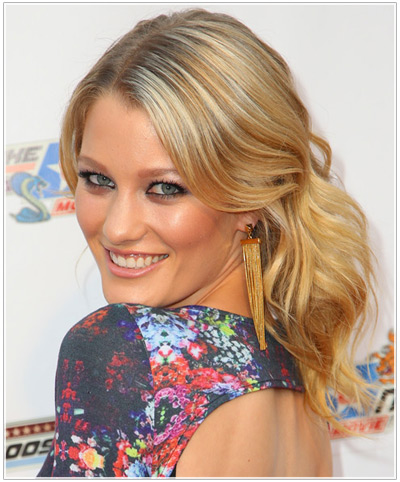 Finally, Ashley Hinshaw shows us how to work a "barely up" hairstyle that looks fabulous in formal occasions. This is the perfect hairstyle for women who like to have hair around their face but who also want to show of their bone structure. This lightly pulled back 'do shows off your fabulous bone structure while keeping your hair under control. To get this look, simply style your hair as normal and loosely pin your hair to the side of the head with hairpins. If you have a long fringe, feel free to let it hang loose and frame the face like Ashley has done here.