Let's face it—the ombre look is well and truly played out. However, singer Ciara has managed to keep it looking fresh and modern with her different take on it, using asymmetrical cuts and beautifully blended colours to make her own signature statement. The ombre look works particularly well on Ciara because she has a fantastic medium golden skin tone that looks amazing with both blonde and caramel brown shades. If you love the way Ciara looks, check out how you can achieve two of her most recent styles.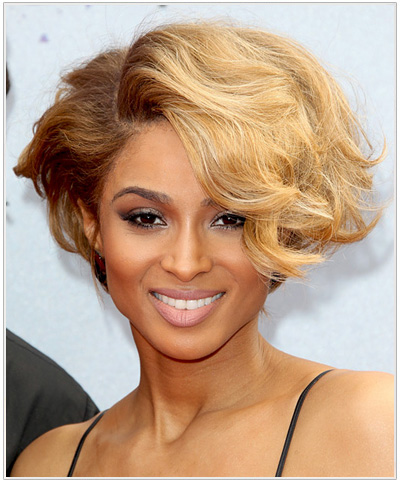 Here, Ciara is rocking a bob that looks oh-so-chic. This bouncy 'do is perfect for ladies who need a style that is all business in the daytime, but lets loose at night. Ciara's natural dark brown colour flows seamlessly from the roots into a medium warm brown near the mid-lengths and then transitions into a warm golden blonde near the ends. Ciara's colourist did a great job by using a variety of colours for a smooth transition—there isn't a 'band' of colour in sight. Rather than look like she has dipped her ends in bleach, Ciara's hair looks ultra modern and classy as it flows from dark to light. You can get this look by asking your stylist to cut your hair into a graduated bob, with long layers throughout. This bob looks best with a grown-out fringe that kicks out in the front, but if you like to have some forehead coverage, then have your stylist cut in a long side swept bang for you. Colour-wise, start with your natural colour (or a shade that is one shade lighter or darker) at the roots. Then have your stylist choose two to three shades to create a seamless blending effect, with your lightest colour finishing up the ends. If you have warm skin like Ciara, stay with shades that have a gold base in them. If you 're on the opposite end of the colour spectrum, go for ashy browns that fade out into a light ash blonde.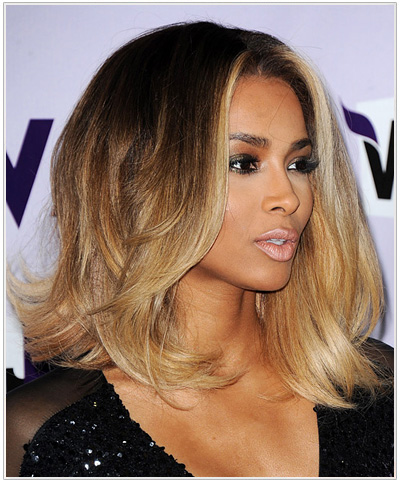 In a more recent look, Ciara has opted for a short and sassy cut with an asymmetrical look to it. This tapered bob falls just past the cheekbones and looks best worn with a deep side part and one side tucked back behind the ear, as seen here. Although the cut is cool on its own, the colour makes it a real head-turner. Ciara has changed up her ombre look by transitioning the colour from left to right, rather than from top to bottom. To get this effect, choose a base colour that is close to your natural shade but will blend well with your light blonde shade. Ciara has chosen a light caramel brown, which works nicely with her buttery blonde. Have your colourist fade out your colour on the longer side of your haircut and around the back.
Now that you've got Ciara's cool ombre hairstyle, try her favourite products to keep your hair in check. She's a fan of PureOlogy's HydrateShampoo and HydrateCondition, as well as Paul Mitchell Extra-Body Finishing Spray. When she wants to go for a sleek, straight look, she busts out her favourite styling tool- the FHI Flat Iron.