While the young up-and-coming starlets in Hollywood usually get most of the media attention, the leading ladies of the past can definitely hold their own when it comes to hair and beauty! Lately on the red carpet, it's the celebrity women over 40 who are really causing a stir with their eternal beauty and elegance. Women young and old can learn from their simple yet elegant looks that are never overpowering or over the top. So whether you are in your twenties, thirties, forties or more, check out these leading ladies who know how to kill it on the red carpet.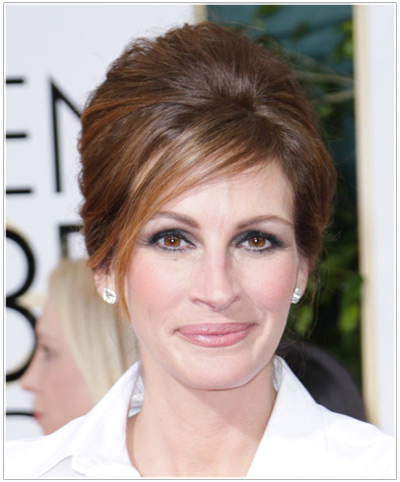 Julia Roberts proves here that she is still America's Sweetheart. Her signature auburn locks have been swept up into a beehive hairstyle with a French twist at the back. To add some coverage on the face, she has left her long side-swept fringe down, which softens up the look and highlights her famous eyes and cheekbones. This high volume hairstyle looks fab on ladies with round, oval, heart and triangular face shapes. It will suit all hair textures from straight to curly, but will require extra styling time for some to get a smooth, silky blowout. Makeup-wise, Julia keeps it simple with a subtle smoky eye and soft pink blush and lipstick. Her fair skin looks flawless as usual and harmonizes with her reddish brown hair perfectly. Overall, Julia looks just gorgeous!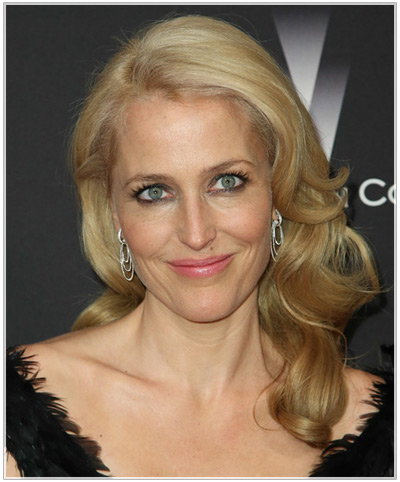 Gillian Anderson is a very accomplished actress, but let's face- she'll always be the smart and sexy Agent Scully in our hearts! Gillian's ditched Scully's trademark red locks but looks just as gorgeous in buttery blonde hair. This shade warms up her complexion and is a great choice to bring out her blue eyes. As for her hairstyle, Gillian has chosen a deep side part and classic cascading waves for an ultra glamorous hairdo. This hairstyle will suit oval, oblong, square and diamond face shapes and can be achieved all on hair textures by blow-drying it straight first, then adding large curls with rollers. Just like Julia, Gillian hasn't aged at all and looks radiant on the red carpet!
Finally, we have Sandra Bullock who always looks young and trendy on the red carpet. With her dark features and glossy brunette hair, Sandra has a great canvas to work with and never disappoints. The great thing about Sandra is that she isn't afraid to go for edgier looks and always manages to keep them looking classic at the same time. Here, Sandra is wearing soft rock chick waves and a centre part for a cool red carpet look. This is an easy breezy understated hairstyle that can go from day to night without a hitch. It suits round, oval, heart and triangular face shapes the best. Sandra adds some more edge to her look with a dark smoky eye and nude lip. This is a sexy look that Sandra can pull off effortlessly!
As you can see here, being over 40 in Hollywood means nothing when it comes to style. These leading ladies look just as youthful and elegant as some of their counterparts who are twenty years younger- good on you ladies!