Where has Ashanti been hiding lately? She seems to have dropped off the red carpet radar, but thankfully she was back on top form recently flaunting a look that was 100% A-List. Ashanti fans will no doubt love to copy this sophisticated evening look that can be done with a few styling tools and the right makeup palette. Here's how to get Ashanti's glamorous evening look.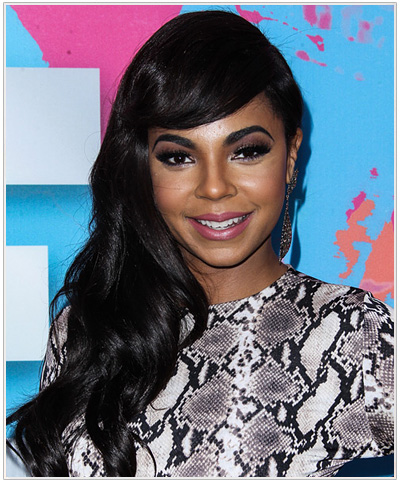 The Hairstyle
Ashanti's hairstyle is obviously for ladies who have long locks. But if your hair is a shorter length you can also flaunt this deep side parted style without the cascading waves and add a bit of vintage glamour to your 'do. For those with long locks a la Ashanti, start by blow-drying your hair silky smooth and sleek. Remember to load up on a heat protectant cream before you start your styling. Ashanti has kept her hair care regime secret from the press—does she wear a weave, extensions or is that her natural hair? No one knows for sure but she does seem to go from curly to straight styles with ease. In the past, she has credited Herbal Essence products for her shiny mane, but she was the spokesperson for them at the time, which more than likely influenced her statement! In any case, back to the styling. Once you have straight hair to work with, create a deep side part that sits just past the arch of your eyebrow. Set your hair in hot or steam rollers and let them set. Once they are unrolled you should have long, loose curls. Using a hairpin, secure the front portion of your hair near the temple, but instead of pulling it taught, let it sweep across your forehead to create a faux fringe. As mentioned before, this also works on shorter hair as long as the bangs are grown out. Sweep the rest of the hair to one side and you are ready to move on to the makeup.
The Makeup
Ashanti is wearing a gorgeous palette for dark skin. Rich shades of pink, purple and black make her complexion glow and brings out those huge eyes. Ashanti is a big fan of MAC products, so you may want to check out their palettes before you begin.

To get this look you will need:

a purple eye shadow palette
black eyeliner
black eyeliner pencil
mascara
pink blush
cherise pink or berry lipstick
Ashanti has created a smoky eye using shades of silver (as a base), metallic plum and black in the crease to create a dramatic effect. She has gone heavy on the eyeliner on both lash lines (which is ok for evening looks!) and topped it all off with fake eyelashes. For extra wow factor, Ashanti has embraced the bold eyebrow look and emphasized hers with a black eyebrow pencil. (Obviously, you'll have to adjust this shade depending on your particular brow colour!)

To top this look off, a pink blush on the cheeks and matching lipstick will do the trick. For a vampy night look, substitute the cherise shade of lippie for a deep plum or berry shade.