Sometimes you might want to find a new hairstyle that is hot and that is going to boost your confidence. From long, medium and short length hairstyles, hairdressers can use an angle technique to create a sharp edge, texture your fringe and get the right shape to flatter almost any and every modern hairstyle that everyone has at the moment.

The nice thing about angle layering your hair is that it will suit most face shapes and hairstyles. If you have highlights or two toned colored hair, the angle layers are going to help you show off the color even more. It will create volume and every movement that you make, will show off a different side of your hairstyle as well as your color.

Angle layering will help create volume to your hairstyle as well as help to get rid of some of the weight on your head. This is a nice thing to keep in mind during the summer time as your hair can get heavy and it can become uncomfortable and a bit of pain to maintain during the summer season. Angle layers will help you drop some of the hair weight which is going to help you keep your hair in shape.
How to cut angled layers
Angle layers are added so that your hair can hold the shape and style of the hairstyle better. Long layers can be cut at 90 degrees. However, most of the time, stylists like to cut the angles between 135-180 degrees depending on the shape of your head and the length of the hair.
All you need to do is comb the hair that you wish to cut, section it off so that you can cut layers at a time, place the scissors at the degree that you want the angle to be and cut. It is not recommended that you cut your own layers as sometimes it can go very wrong! It is advised that you go to a professional so that your layers can be precise and stylish.
Long hair angled layers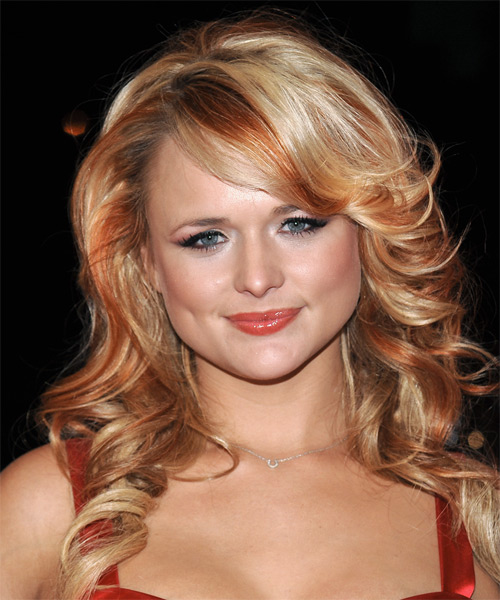 Long hair can benefit from angled layers because they are going to cause your long hair to shape the bottom of your face and neck area. This allows you to style your hair inwards so that you can create the illusion of a perfect face shape and neck area. You do not want to add too many layers to long hair because then it can end up looking like a mess.
Short hair angled layers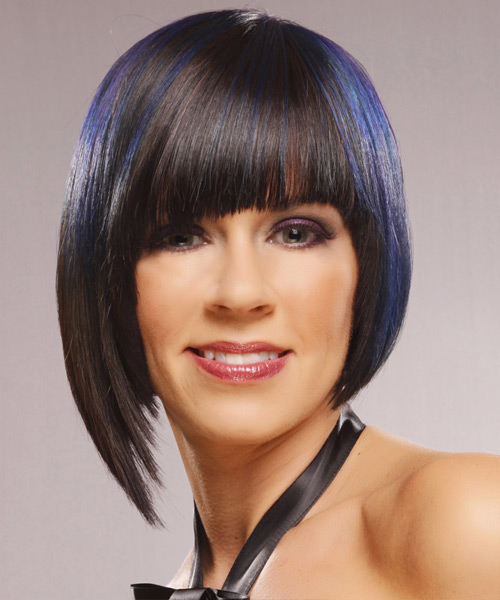 Short hair can benefit from angled layers because it can help you style your short hair better. It is going to help shape your face as well as help you create side-swept hairstyles easier. If you add too many angled layers to your short hair then it's going to look shorter than it really is. It is also going to give you a too much volume and your hairstyle will look more like an out of control afro instead of a fancy new hairstyle.
Bob cut angled layers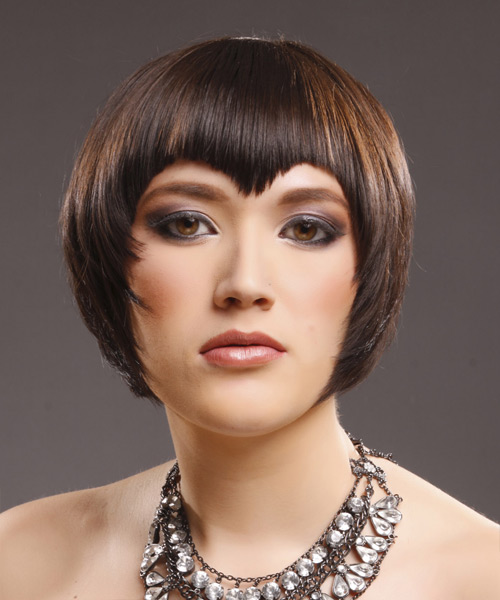 Bob cut angles are best used in the back of the locks as well as around your face area. The reason for this is that the angle at the back is going to shape the back of your neck and give your overall bob more volume. The angles around your face are going to help to shape your face and create the perfect oval face shape.
Fringe angled layers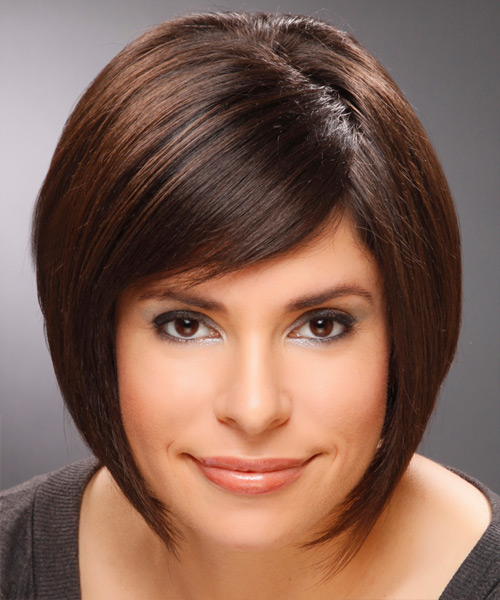 Fringe angle layers can be a bit tricky. You need to take into account if you wear glasses or not as these layers do not always suit people who wear glasses. These fringes are known as the 'Goth' fringe because they tend to cover one eye if it is long, or it covers most of your forehead. I personally love these fringes because they help to show off facial features that are often forgotten about. They show off your cheekbones, nose area as well as highlight your lip area. The angle layers on your fringe help to give your hairstyle a bit more of a mysterious feel and if you have subtle highlights running through your fringe, your hairstyle will be next level!
Some examples of angle layering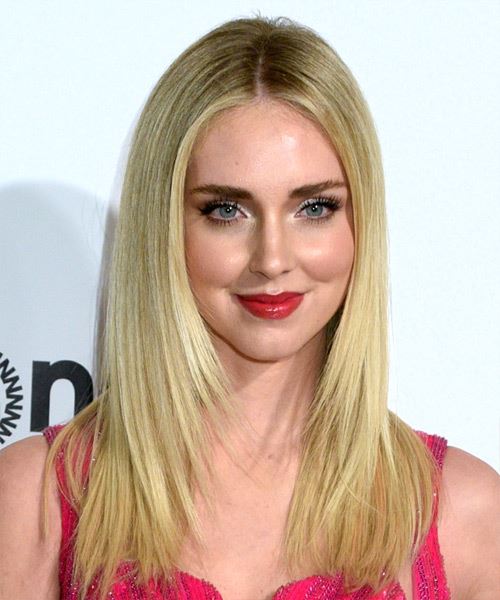 Chiara Ferragni is showing us that sometimes less is more. Firstly, have a look at how subtle her layers are. She has long, straight hair that has been given a style of its own due to the fact that she has added angled layers to the front of her hairstyle. The layers are not only there to show off her how healthy and stunning her hair is naturally, but they are also there to shape her face. The angled layers are used in this hairstyle to help showcase her gorgeous facial features as well as to help contour her neck and cheekbone area. This is a great example to see how angle layers can be effective even when they are subtle. Sometimes you do not have to go big to create the perfect hairstyle for you!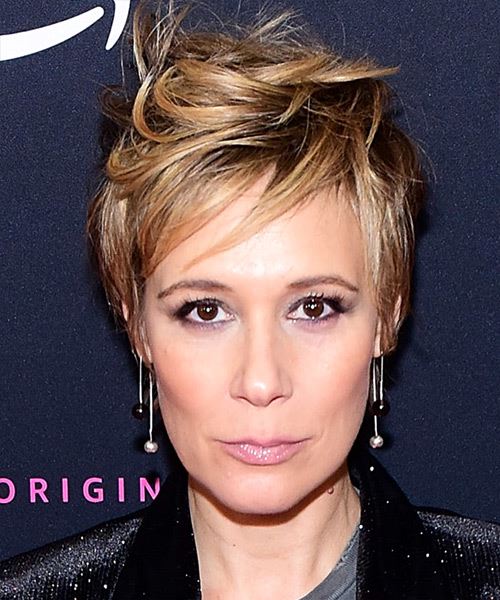 Liza Weil is an icon! She is a fantastic actress and she is pulling out all the stops when it comes to her hairstyle! As you can see, her angle layers are a bit more dramatic than the previous picture. The angled layers play the role of shaping the top of her forehead as well as around her eye area. This is important to note because you want to choose angle layers that are going to bring your favorite facial features to the spot light and hide some of the areas that you do not want people to focus on, like a nasty breakout for example. The layers are cut at an angle and then are styled to make the angles look more dramatic than they really are. This is a cool trick to have if you want to create a dramatic hairstyle one day and the next days just have layers to create volume.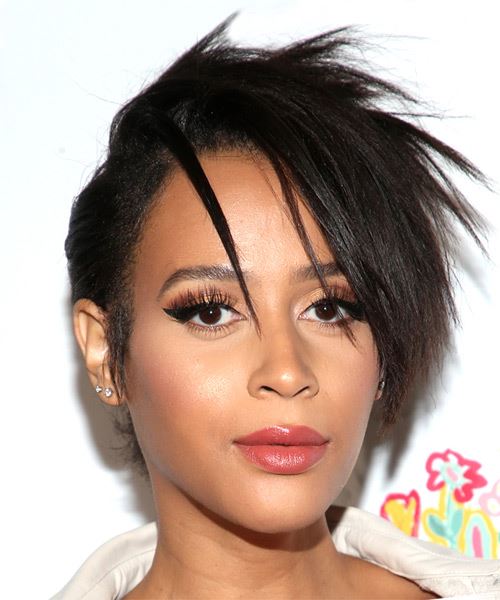 Isis King Black is a hairstylist's dream! Her hair is magnificent and the angle layers in this hairstyle help to take her hairstyle to the next level! As you can see the angles are more in the top of the hairstyle and the back and sides of this look is one layer. The top of the hairstyle is the star of the show because of the way in which it is styled. Your eyes go towards the top of the look straight a way and then you follow down the line of the angle towards her eye and cheek area. This is the beauty of angled layers. Your eyes tend to look at the root of the angle and then go down to the tips which are different levels. This creates amazing texture in your hair as well as makes your hairstyle look like a work of art that is constantly changing as you focus on another aspect of the hairstyle.
How to maintain your angle layers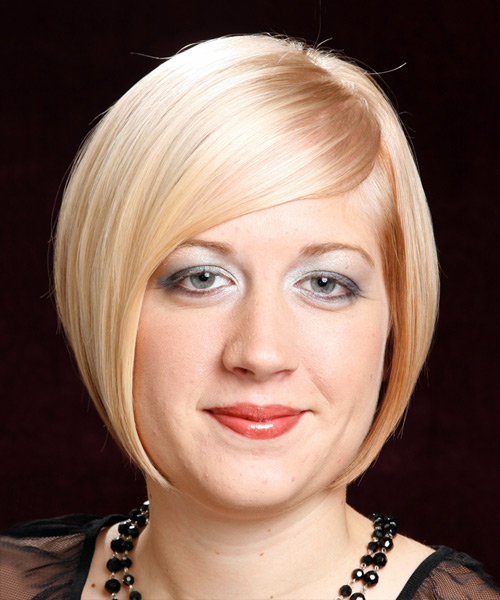 Do not comb your hair too often as you are going to cause your layers to be static.
Wash your angled layered fringe more as the oil on your skin can cause your fringe to go oiler quicker than the rest of your hair.
Trim your hair once every 3-5 weeks to help keep your layers in shape.
If you are going to color your hair, you are going to want to touch up your color once every 6 weeks or so to ensure that the color stays fresh and vibrant.
Keep your hair healthy. Your angled layers are going to need proper moisture to ensure that they keep the look that you are going for. Do a hair mask once a month and ensure that you are using the correct products to keep your hair healthy and happy with your new layers.
Brittle hair tends to need more moisture than other textured hair. You are going to want to make sure that you do not add too many layers to your hair if it's brittle as it can begin to look a bit messy and seem like your hair is in bad condition.
Do not go overboard with your angled layers! You do not want to add too many layers to your hair because then it is just going to look like a birds nest instead of a stylish hairstyle that makes everyone jealous. Start off with a few and then you can go from there.
Apply a heat protecting product to your hair before you use styling tools so that your layers do not frizz and become out of control flyaway hairs in your new hairstyle.
Blow dry your layers with a round bristle brush to keep your layers going one way. You want to start with your bangs and then work your way outwards.
Set your hairdryer to medium heat and lift at the roots of your hair to ensure that your layers give you the volume that they are intended to give.
How to grow out your angle layers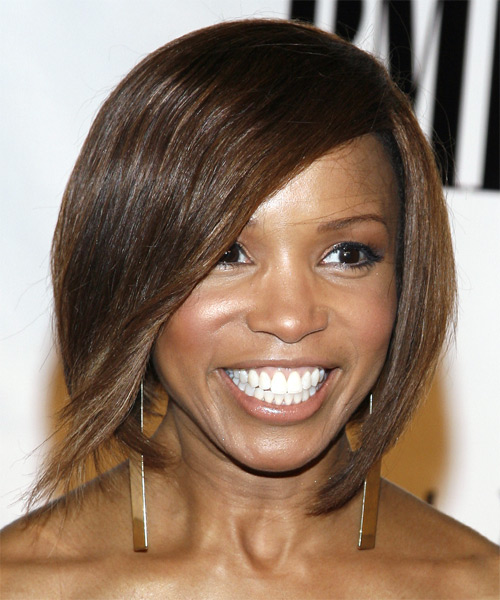 Angles are a great way for you to diversify your hairstyles and create the illusion of volume. You might find that you get to the point whereby you want to get rid of your layers or you want to change them up a bit. Please do not take the short root and just cut everything off! You can grow out your layers slowly and then you can change your layers if you want or change the style that you are going for.
All you have to do is be patient. Every 3-4 weeks, go visit your hairstylist so that he/she can trim your layers. If you want to change the angle of the layers, all you have to do is trim a bit off to add more of an angle or let it grow a bit to make the angle less drastic.
You can carry on with this process until the layers meet the same length of the longest part of your hair. Once this is done, then you can add angles if you want or let the layers grow out completely and change your hairstyle.
This process does take time and depending on how quickly your hair grows, will depend on how quickly this process will go for you. Hang in there and be patient. You don't want to ruin your hairstyle completely just because you got bored one day.
You are going to want to mix up your style every once in a while to show off your angled layers in new ways. You can color your hair, add highlights, straighten your hair or even curl it every once in a while to ensure that your angled layers are being shown off and you get the most out of your new hairstyle.
Angled layers can be a bit harder to maintain than having a hairstyle that does not have layers. This is something that you need to consider before choosing to have angled layers. You have to keep up with cutting them so that they do not grow out too much and lose their shape. Angled layers might have a higher maintenance level but this is one decision that you are going to want to make. They will open up your face more and give you endless opportunities for hairstyles and shapes that you are going to want to try once and maybe even keep for a while.
Angled layers are there to give your hairstyle a bit of a lift and bring new life and freshness to your face. Do not be scared to try something new. Sometimes in life you just have to trust your hairstylist and say you want angled layers. When placed in the right places, these elevate your hairstyle to new heights and you are going to feel more confident and want to show off your hairstyle to everyone and anyone that walks past you!