Model Alyssa Miller was, up until now, usually seen with the typical model hair—long, layered and with a few sun-kissed highlights thrown in for good measure. Of course this hairstyle suited her well, as it does for most women. Recently, however, she has been wearing a shoulder-length bob that has really transformed her look and sense of style. Let's take a look to see how her short and long hair compares.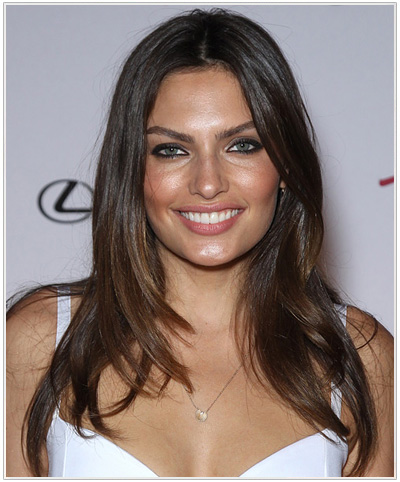 Wearing long hair is first of all, a great option for Alyssa's oval face shape. This hair length suits round, oblong, heart and triangle shapers as well. Squares and rectangles can also wear this hairstyle but will need more layering around the face to soften up their features, and they also need to switch up the part from the center to the side. For all face shapes, adding a side-swept fringe can be a great alternative way to wear long, layered hair if you have a high forehead, or just feel better with a fringe.

This hairstyle is probably so popular with models like Alyssa not only for the timeless, feminine look of long hair, but also for the versatility. For models who need to convey many different looks for their work, there is nothing like long, layered hair to do the trick. For the rest of us, long layered hair allows us to wear our hair down, up, half-up, curly, straight, wavy, in a bun, in a chignon—you name it, long hair can do it. So keep this in mind if you are deciding between short and long hair. Another bonus to this style is that it is relatively low maintenance. Visiting the salon every couple of months for a trim and re-shape is really all this hairstyle needs.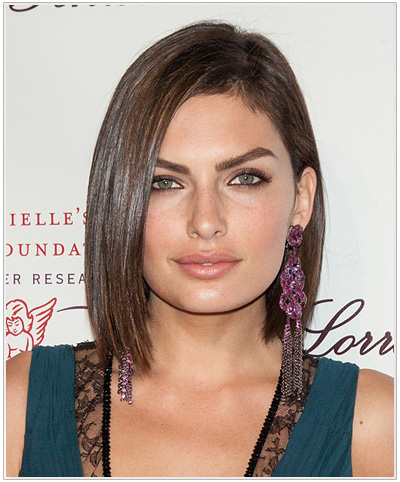 Now, let's take a look at Alyssa's more recent do. Lately, she has been wearing a chic bob that not only suits her face shape perfectly, but also gives her a more trendy look and sets her apart from the rest of the model crowd. But model or not, if you instantly want to look more chic and trendy in the hair department, cutting your hair into a bob can help you do this. The bob is a timeless hairstyle that can convey class and elegance, with the added benefit of being low maintenance. Plus, there is a variation to suit every face shape. For example, women with square face shapes can flaunt a graduated bob with a side fringe to look their best. On the other hand, oval and heart-shapes can pull off blunt bangs with their bob for a more dramatic look. In Alyssa's case, her oval face looks more angular with this shoulder-skimming bob, plus it brings the focus to her strong eyebrows and gorgeous eyes.

Although long hairstyles are definitely more versatile, don't be fooled into thinking that bobs can only be worn down. In Alyssa's case, she can still tie her hair back in a low chignon or ponytail for something different. A headband will also keep her hair out of her face while working out, which is often a concern for active women who need to get their hair out of their face when they hit the gym.

Alyssa suits both long and short hairstyles, as most women do. The question to ask your self when deciding between the two is—which style suits your face, sense of fashion and lifestyle the best?