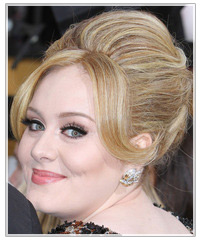 Don't be fooled into thinking that wearing your hair the same way is boring. The truth is, establishing a trademark look is one of the smartest ways to style your hair. Not only does it take the guesswork out of deciding what to do with your hair everyday, it also allows you to define a look for yourself that projects to the outside world what you're all about. Don't believe us? Then take a look at just some of the advantages a trademark hairstyle can have for you!
Trademark Hairstyle Advantages!

Styling a trademark look, such as clean, straight hair, perfectly formed curls or a smartly styled ponytail or bun builds a professional, reliable reputation in the work environment.

Choosing just one style to put your locks in the majority of the time gives you the chance to master a look, which in the long run, makes styling easier and quicker.

If you've chosen well and picked a hairstyle that suits your face shape, hair texture and fills you with confidence, you'll always look your best!

If you're worried that always styling your hair the same will give you a dated look, look no further than Jennifer Aniston (above). She's sported the same 'do for years and looks just as youthful today (left) and she did years ago in 2006 (right). The key is choosing a trademark hairstyle that flatters you.

Another advantage of a trademark look is that it also allows you to make an impression when the need arises. When Taylor Swift (above) first burst onto the music scene, her trademark look was perfectly coiled curls (left). When she changed that look during an evening out at the American Music Awards (right), she made a big splash. Having a trademark hairstyle made her instantly recognizable, and breaking from it for one occasion gave her a fierce new look that had everyone talking about her for all the right reasons!