It's that time of year again! All of the new styles that are going to be hot in 2014 are here and can already be seen on celebrities flaunting their 'dos on the red carpet.
While 2014 may be a year where anything goes when it comes to African-American hair, there are some new trends out there that may catch your eye. Check out these trendy new looks and see which one will suit your personal sense of style. Let's start with the boldest trend for 2014—neon hair.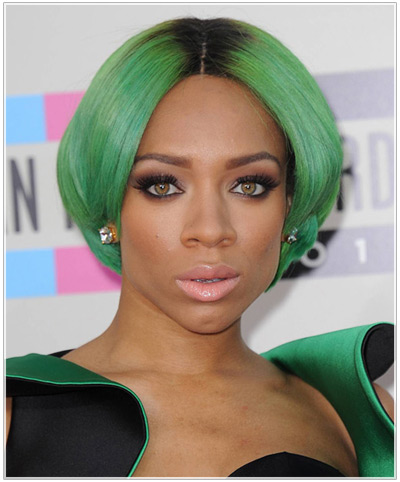 In this case, Lil Mama is flaunting a super cool jade green shade that looks amazing with her warm complexion and hazel eyes. Rather than look juvenile and punky, this jade green hairstyle looks fantastically futuristic and cutting edge. Vibrant hair colors are going to be bang on trend for 2014, but not just for the younger crowd. Don't be surprised if you see older women also flaunting bright and bold hair colors too, but possibly in a more subdued way such as peek-a-boo highlights or a few streaks throughout the bangs. But back to Lil Mama's green hair. To get this look, you will need to bleach your hair out to the lightest shade your hair can handle, and then add the funky green shade on top. Having a short hair length is essential because to create and maintain this look will require a lot of chemical processing. Lil Mama is wearing a short tapered bob that matches the sci-fi look of this green color. This hair trend is definitely one for women who like to turn heads wherever they go!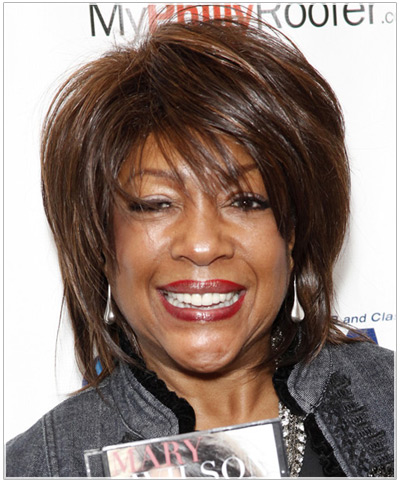 Here, Mary Wilson is showcasing a high volume layered hairstyle that will be on trend this year. Although haircuts that have less structure have been popular the past few years, in 2014 we are going to be seeing more texture and form, especially in short haircuts. Mary adds extra glamour to her hairstyle with her fabulous color. Working with the bold color trend but toning it down greatly for her personal sense of style, she is working a rich brown base shade with vibrant copper brown highlights throughout. This is a great technique for older women who like vibrant color in their hair but in a more subdued way. Instead of going bright and bold all over, simply add a few panels of the color using the bayalage method on the under layers of the hair to get a subtle peek-a-boo effect.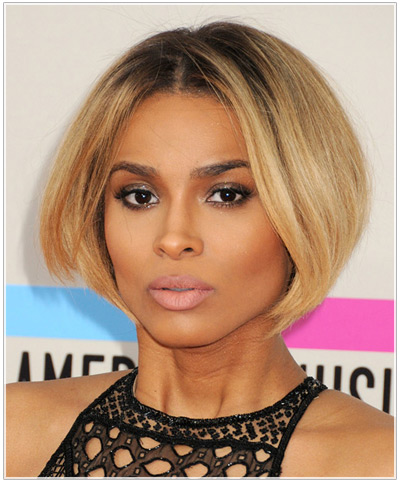 Finally, another big trend for African-American hairstyles in 2014 is the bob! Here, Ciara is rocking a chin-length bob that graduates up at the back of the head. This is a simple haircut that has a bit of layering throughout the ends to give it a rounder shape (much like Lil Mama's cut, seen above). Her light blonde hair color adds extra coolness to her hairdo and looks fabulous with her complexion.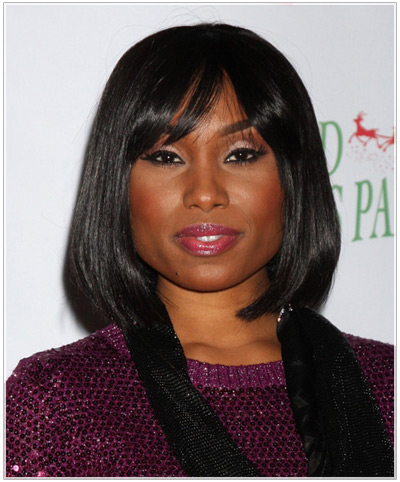 Angell Conwell however, goes for a more classic bob in a glossy jet black color. This style is for women who like to look more natural and sophisticated but still polished and trendy. Rather than have a blunt fringe, Angell's bangs have been layered to give them more structure and shape.
These are just three of the hottest trends for African-American hair in 2014- stay tuned for more!