Results Rebalance Shampoo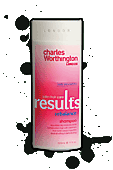 The rebalance shampoo is great. It targets unwanted oils and impurities while maintaining and boosting essential moisture to the ends of your hair and where ever it is needed most. The great thing about this product is that it seals and repairs split ends and restores your hair's natural PH balance. The end result leaves you with hair that is cleansed thoroughly and the shampoo also controls oiliness without dehydrating the hair.
5 stars.
Results Rebalance Conditioner
The Results Rebalance Conditioner is designed to give the hair's drier areas plenty of moisture while bypassing the areas that don't need it. The conditioner releases a balance of moisture through the parts that need it most, which helps to give you more time in-between washes. This is a great product that will never leave the hair with a greasy finish.
5 stars.
Color Bright Shampoo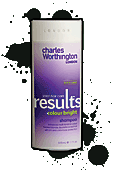 The Color Bright Shampoo has been designed not only to add shine to your hair but to also protect against color-fade. The specially formulated shampoo cleanses the hair without fading the color too much and leaves you with hair that is soft, shiny and healthy looking.
4 stars.
Color Bright Conditioner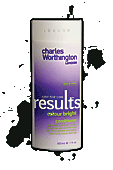 The Color Bright Conditioner adds shine to dull hair and helps to release color back into the hair. It consists of nutrient rich conditioning agents that re-balance your hair's moisture content while preventing UV-induced color fade. This is a great product which will help to improve color vibrancy and leave your hair smelling beautiful for days!
4 stars.
 
The Charles Worthington shampoo and conditioner's are a great range and there are plenty of choices for all kinds of hair types. Check with your local Charles Worthington stockist to get advice on which product will be best for your hair type.