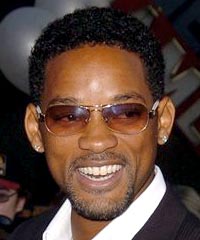 Born in 1968, Willard Christopher Smith Jr. was the second of four children to parents Caroline and Willard Smith who owned a local refrigeration company and lived as a middle class family in West Philadelphia.
Being able to sweet talk his way out of trouble, Will was nicknamed "Prince" and used this affectionate moniker to start his music career with friend Jeff Townes as "DJ Jazzy Jeff and the Fresh Prince."
In 1990, Will signed with NBC to star in the hit sitcom, The Fresh Prince of Bel Air, which ran for 6 years. When the show ended, Will not only started a solo music career but also landed roles in films such as Men in Black, Bad Boys, Hitch, Independence Day and Ali, for which he was nominated for an Academy Award.
In 1997, Will married fellow actor Jada Pinkett and the couple live together with their two children and Will's son from his first marriage. They also serve as executive producers on the comedic television series All of Us, which is about blended families and is loosely based on their own experiences.