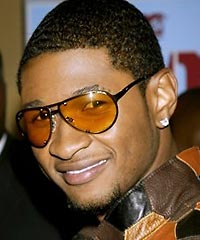 Born on the 14th of October 1978 in Chattanooga, Tennessee, Usher Raymond began singing at the age of six with his local church choir. At the age of 14, this future superstar was spotted at a local talent show and offered a recording contract with LaFace Records and in 1994 released his debut album which had minor success with the single Think of You.
In 1997, after graduating high school, Usher released his second album My Way and had his first world-wide hit with the R&B flavored U Make Me Wanna. The follow up album 8701 had two US #1 singles "U Remind Me" and "U Got it Bad" which were also well received around the world.
It was with the release of his fifth studio album, Confessions, in 2004 that Usher became one of the biggest stars in R&B. The infectious first single Yeah became the club anthem of 2004 and spent 12 weeks at #1 on the US charts. Two more number #1 singles followed with Burn and Confessions Part II and the album became such a huge seller that a re-release was launched with bonus tracks that included the 4th #1 hit "My Boo," an R&B love duet with Alicia Keys.
Knowing that he's on to a good thing, Usher keeps his hair in a funky neat style and occasionally dresses it up by adding multi toned hats and accessories.