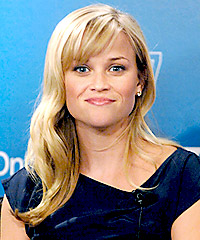 Born Laura Jean Reese Witherspoon on March 22, 1976 in New Orleans, Louisiana, Reese began modeling at the age of 7 and made appearances in several local television commercials.
At age 14, Reese scored a role in The Man in the Moon and earned rave reviews for her portrayal of a tomboy. Roles in other movies quickly followed.
After graduating high school in 1994, Reese's college plans to study English Literature were put on hold when she appeared in the thrillers Fear and Freeway. Although neither movie was a huge commercial hit, they put Reese on Hollywood's radar.
Bigger roles in blockbuster movies like Pleasantville, Election and Cruel Intentions further pushed Reese into the spotlight, but it was her breakthrough performance as Elle Woods in Legally Blonde that made Reese a worldwide star.
Married to fellow actor, Ryan Phillippe, Reese has two children, a daughter, Ava and a son, Deacon, and in 2006, cemented her place as one of the top female actresses by taking home the best actress Oscar for her role as June Carter in Walk the Line.