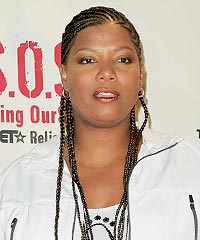 Queen Latifah was born on the 18th of March 1970 in East Orange, New Jersey. She was born Dana Owens, and at the age of eight, her cousin nicknamed her Latifah meaning "delicate" and "sensitive". Latifah started performing at her local Baptist church which led to performing "Home" from the musical The Wiz in her high school play.
Her career started young, beat boxing for the rap group Fresh Ladies, and at the age of 19 her first album, All Hail the Queen was released. The album was a great success and was followed up with three other RnB albums, Nature Sister, Black Reign (for which she won a Grammy for the single "U.N.I.T.Y.") and Order in the Court. In 2004, Latifah branched out and released a soul/jazz album called The Dana Owens Album.
From 1993 to 1998 Latifah played a role in the FOX sitcom Living Single which led to her film career. Latifah has appeared in many movies over the years, such as Scary Movie 3, Barber Shop 2, Living Loud and Chicago, but it wasn't until 2003 when she co-starred with Steve Martin in Bringing Down The House that she started gaining leading roles in films such as Beauty Shop and Taxi.
Up next for Latifah are roles in Stranger Then Fiction, Life Support and Hairspray.