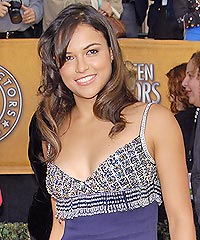 Born in Bexar County, Texas on July 12, 1978, Michelle Rodriguez started her acting career as an extra. In 2000 Michelle got her big break after answering an open call casting for the critically acclaimed independent film Girlfight. The audition was Michelle's first and the lead role as a feisty female boxer led to a 2001 Independent Spirit Award for Best Debut Performance and the 2001 National Board of Review Award for Breakout Performance of the Year. Other roles in films such as The Fast and the Furious, Resident Evil, Blue Crush and S.W.A.T quickly followed.
In 2005, Michelle joined the cast of the hit television series Lost as plane crash survivor Ana-Lucia Cortez, a gritty ex-cop. Playing a tough-as-nails young woman is nothing new for Michelle, but doing it in front of an audience as huge as the one for such as successful TV show has earned her even more acclaim and plenty of love-her or hate-her attitude from the die-hard Lost fans.
Up next for Michelle is a role in the movie version of the video game BloodRayne and the horror film The Breed.