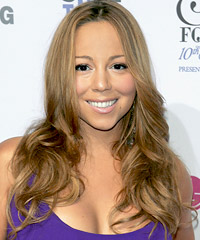 Born in Long Island, New York on March 27th, 1970, Mariah Carey started singing from the age of four and writing songs while in middle school.
After graduating high school, Mariah immediately moved to New York City to pursue her singing career and got her big break in 1988 when her demo tape was passed onto Tommy Mottola, the chief of Sony Entertainment, who signed Mariah to a record contact.
After working on her first album for a full year, the self titled debut was released in 1990 and went on to spawn 4 #1 US hits and to introduce the world to a unique voice. By the close of the '90s, Mariah had released 9 albums and garnered 14 #1 US singles. She had also changed her safe pop musical style to a more RnB influenced sound and helped to launch the style of mixing pop and rap.
In 2001, Mariah experienced her first real career set back when she released a movie and soundtrack titled Glitter. The movie and soundtrack, which were unfortunately released on September 11th, tanked, and after 11 years of non-stop work, Mariah physically broke down and was written off by many as a has-been.
Taking the setbacks in her stride, Mariah kept recording and in 2005, released her 14th Album, The Emancipation of Mimi, which saw Mariah streamline her RnB sound and really return to singing. The album was a worldwide hit and became the biggest selling album of 2005. It also contained the biggest song of 2005, We Belong Together which spent a record 14 weeks at #1 in the US.
After the most successful year of her career, Mariah has shown no signs of slowing down in 2006. She has recently signed a deal with Pepsi to write and record exclusive ring tones and will be launching a summer tour, The Adventures of Mimi: the Voice, the Hits, the Tour later in the year.