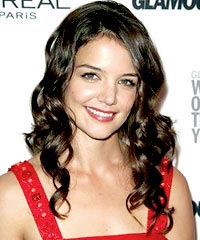 Born on December 18, 1978, in Toledo, Ohio, Katie Holmes began modeling as a teenager, and while attending an International Modeling and Talent Association Convention at 16, decided that modeling wasn't challenging enough and began to concentrate on acting.
Signing with an agent at 17, Katie went to Los Angles for pilot season and on her second audition scored a role in the critically acclaimed movie The Ice Storm. With the acting bug firmly in place, Katie created a series of audition tapes and landed the part of Joey Potter, her breakout role in the teenage drama series Dawson's Creek.
Dawson's Creek went onto critical and commercial success which launched Katie and the other, then unknown, cast members onto the Hollywood radar. Movie offers rolled in and Katie appeared in everything from teen movies, to thrilling dramas and critically acclaimed blockbusters. Some movie highlights include: Wonder Boys, The Gift, Go!, Phone Booth and Batman Begins.
In early 2005, Katie split with her fiance and partner of 5 years, American Pie actor, Chris Klein. A short while later it was announced that she had begun dating Tom Cruise, who at 16 years her senior, seemed like an odd match.
At first dismissed as a publicity stunt, Katie and Tom continued their whirlwind relationship and after just three short months together announced their plans to marry after an engagement atop the Eiffel Tower in Paris. Fast forward another three months and Katie and Tom have announced that they are expecting their first child.
While Katie puts her acting career on hold to become a mother, TheHairStyler.com looks back at some of the great styles this talented young actress has had in the past.
From the Dawson's Creek days, Katie has always kept to natural dark brown tones and long, sleek layers. This is a simple look that is both elegant and sexy.