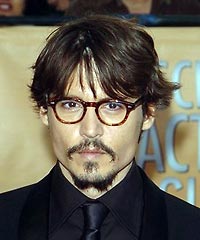 Born John Christopher Depp in Owensboro, Kentucky, on June 9th 1963. Raised in Florida, Johnny dropped out of high school at the age of 15 in the hopes of becoming a rock musician, but during a trip to LA with his former wife, he was introduced to actor Nicolas Cage and decided to give acting a try.
Johnny made his film debut in A Nightmare on Elm Street and then shot to fame when he starred on the hit 1980s TV series, 21 Jump Street.
Over the years, Johnny has starred in a range of movies such as Edward Scissorhands, Cry-Baby, and my favorite, Pirates of the Caribbean: The Curse of the Black Pearl, where he played a cool pirate named Captain Jack Sparrow and was nominated for an Oscar.
Johnny loves having long tresses and short layers to form a messy yet artistic style.