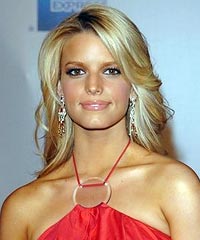 Jessica Simpson started her music career in the late 90s at the age of 17, and while recording a duet for her debut pop album, met and fell in love with Nick Lachey, lead singer in the now defunct boy band 98 degrees.
Vowing to the world that she planned to stay a virgin until marriage, Jessica and Nick got married in October 2002 and a year later began starring in the hit MTV reality series, Newlyweds.
The show was an instant smash hit and introduced the world to this ditzy fair-haired vixen. She's a real trend-setter with her classic blonde locks and many of Jessica's fantastic hairstyles can be seen right here at TheHairstyler.com in our celebrity hairstyles gallery.