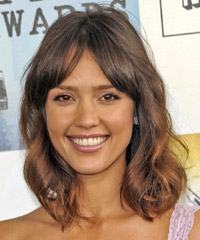 Born in Pomona, California, on April 28th, 1981, Jessica Alba couldn't wait to become an actress, and at the age of 12, she took her first acting class and nine months later was signed by an agent.
As a gifted young actress, Jessica has played a variety of roles, fitting into each part perfectly. She made her feature film debut in 1993 in the teen comedy Camp Nowhere and then branched out into TV in 1994 with a recurring role in Nickelodeon's popular comedy series, The Secret World of Alex Mack.
For three years, starting in 1995, Jessica starred in the TV series Flipper, but it wasn't until her breakout role in the Dark Angel television series in 2000 that Hollywood began to take notice. Fast forward to 2005, and Jessica has been a feature in three major films, Sin City, Fantastic Four and Into the Blue.
The varied roles of her recent releases gave Jessica a chance to play with her image and her trademark chocolate brown locks were transformed into a luscious bold fairy blonde before she had her hair chopped into a stylish bob and then lengthened again with the help of hair extensions.