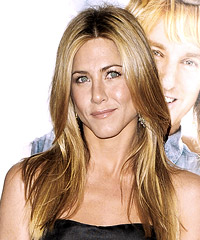 Jennifer Aniston found TV stardom playing Rachel Green, the spoiled rich girl in the hit NBC sitcom Friends. The role made Jennifer a superstar and earned her four successive Emmy nominations (2000-2003), twice as Best Supporting Actress and twice as Best Lead Actress. She would take home the Lead Actress Emmy in 2002, as well as a Golden Globe in 2003.
Becoming one of the most popular actresses of her era, the attractive and sexy actress grew up around show business; her godfather was actor Telly Savalas, her mother was a model and actress and her father had a career as a soap opera player. Once graduating from NYC's famed High School for the Performing Arts in 1987, Jennifer embarked on her career which consisted of TV commercials and a handful of Off-Broadway productions.
In 1997, Jennifer became involved with handsome movie actor Brad Pitt, making them the most popular actors to grace magazine covers around the globe. They married in July 2000 in Malibu. The couple worked together professionally only once, when Pitt appeared on a 2001 episode of Friends as a formerly fat high school class mate.
In 2005 Jennifer and Brad announced their split. Not too long after, Brad became involved with his now pregnant girlfriend, Angelina Jolie and Jennifer has become involved with her co-star in The Break Up, Vince Vaughn.