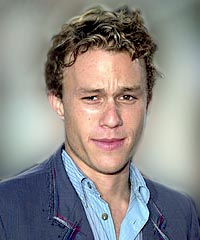 Heath Ledger was born on the fourth of April 1979 in Perth, Western Australia and decided to try acting after being encouraged by his sister's agent. Excelling in drama at school, Heath and his best friend packed up everything at the age of 17 and moved to Sydney to try their luck.
With no professional acting experiences to learn from, Heath was cast in a sting of low budget movies and had some forgettable roles on a variety of Australian TV shows.
Using his failures as a learning experience and a way to improve his acting, Heath got his big break with a role in the critically acclaimed Australian movie Two Hands, which led to a lead role in the US teen comedy 10 Things I Hate About You.
Afraid of being type-cast, Heath took on roles in a variety of movies such as Ned Kelly, The Sin Eater, Monster's Balland, A Knight's Tale, but was more well known for his relationships with actors Heather Graham and Naomi Watts.
In 2005, Heath began to garner critical acclaim for his role as a gay cowboy in the epic love story Brokeback Mountain. Other starring roles in The Brothers Grimm and Casanova have helped to distance Heath from his teen heart-throb image and he recently became a father to daughter Matilda Rose, with his partner and Brokeback Mountain co-star, Michelle Williams.