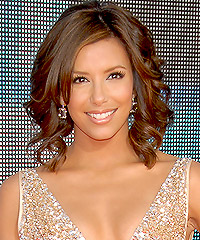 Eva Longoria Parker grew up on a ranch in Corpus Christi, Texas as the youngest of four sisters and attended Texas A&M Kingsville, where she received a Bachelor of Science degree in Kinesiology.
After finishing college, Eva entered herself into a talent contest in Los Angeles and was then signed up by a theatrical agent.
Eva's acting career began with roles on popular TV shows such as The Bold and the Beautiful, General Hospital and Beverly Hills 90210. In 2003, Eva auditioned and successfully won the role of Isabella in The Young and the Restless, but is wasn't until she got the role of Gabrielle Solis in Desperate Housewives in 2004 that she became a household name worldwide.
Preferring to work on movies, Eva recently made an appearance as a secret service agent in The Sentinel and has plans to move from the small screen to the big screen permanently.