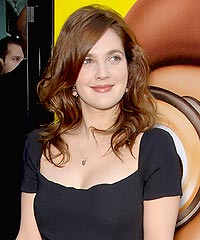 Drew Barrymore started her career at only 11 months of age in a dog food commercial, but it wasn't until her role in Steven Spielberg's E.T the Extra Terrestrial at the age of 7 that she became a huge success, which led to such perks as becoming the youngest person to host the legendary show Saturday Night Live.
Unlike most childhood stars, Drew went on to become one of Hollywood's biggest stars and still holds this title today!
Drew had a very troubled adolescence with the whole world watching her every move, and at the tender age of 9, she turned to alcohol and drugs. Luckily, she pulled herself together to rise and become the star that she is today.
Drew has appeared in a long list of movies and some of her biggest hits have been Bad Girls, The Wedding Singer, Ever After, Never Been Kissed, Charlie's Angels and 50 First Dates.
On the love front, Drew was married to Jeremy Thomas in 1994 and divorced him 11 months later. In 2001 she married again, this time to comedian Tom Green, but by the end of 2002 they too had divorced. Drew is currently engaged to, Fabrizio Moretti, drummer in the band, The Strokes.