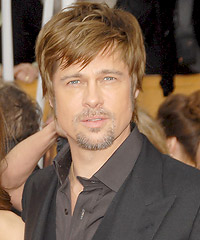 William Bradley Pitt was born on the 18th of December, 1963 in Shawnee, Oklahoma, USA.
Brad first began acting in drama classes at high school and later in collage where he majored in Journalism and Advertising.
Deciding that acting was the life for him, Brad dropped out of collage and moved to Hollywood in 1986 and began finding work in television commercials.
In 1991, Brad became famous overnight following his breakout role as drifter, J.D, in the hit movie Thelma and Louise. With only 14 minutes screen time, Brad's looks and acting skills made his character so memorable that he was able to use the attention he received to launch his career.
A string of hit movies followed including, Interview with the Vampire, Legends of the Fall, Twelve Monkeys, Fight Club and Ocean's Eleven.
In 2000, Brad married TV actress, Jennifer Aniston after they were introduced on a blind date set up by their agent. The two divorced in 2005 and Brad later began a relationship with his co-star in the assassin movie Mr. and Mrs. Smith, Angelina Jolie. The two are expecting their first biological child and share custody of Angelina's two previously adopted children.
Brad currently has his name attached to 5 movies and will star in the upcoming third installment of the Ocean's Eleven series, Ocean's Thirteen.