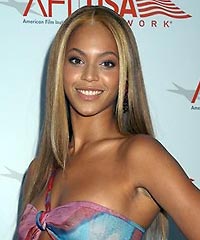 Glamorous, gorgeous, talented, Beyonce Knowles has it all.

After conquering the music world as the lead singer of the best selling female-vocal group, Destiny's Child, Beyonce Knowles is well known for her success and after a fabulous year of solo projects, this singer, actress and model has become one of the biggest trend setters in the entertainment world today.

Beyonce hairstyles are nothing less than absolutely fabulous! She has worn her hair in signature cornrows, layered it in soft curls complete with honey-caramel highlights, a poker-straight mane washed in a warm brown semi-permanent, and most recently in gorgeous blonde locks. And who could forget her "Foxy Cleopatra" Afro from her debut movie Austin Powers: Goldmember.