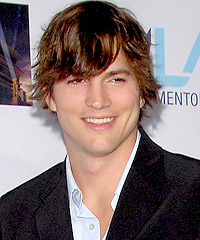 Ashton Kutcher was born on February 7, 1978 in Cedar Rapids, Iowa, five minutes before his fraternal twin brother, Michael.
Ashton's first real break was winning the Fresh Faces of Iowa modeling contest in 1997 which set up his modeling career in New York City and placed his foot in the door.
Discovering he could act as well as model, Ashton landed his first role in the hit TV series That 70's Show, and had all the '70s funk hairstyles to go with it. It didn't take long for Ashton to make it to films and he has starred in many box office smashes such as the dramatic Butterfly Effect, hilariously funny Dude, Where's My Car? and the romantic comedies A Lot Like Love and Just Married.