Lisa Rinna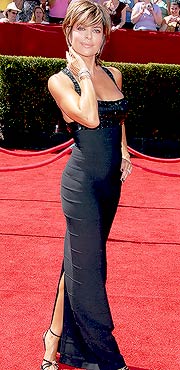 The always charming Lisa graced the red carpet in this gorgeous couture black dress which showed off every inch of her spectacular body. Lisa kept her style chic with diamond earrings, sexy strapped shoes and a short sassy hairstyle which shaped her face and sat on her neck flawlessly.
Debra Messing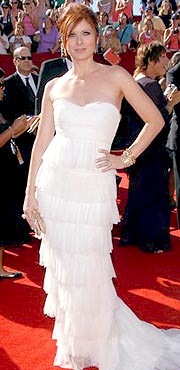 Debra looked sensational strutting her stuff on the red carpet in this white frilly strapless gown. Debra kept her hairstyle simple and low key and left soft bangs down to shape her face.
Jennifer Love Hewitt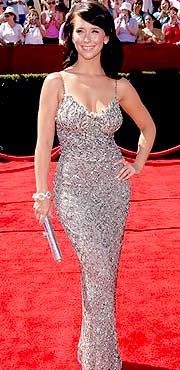 Jennifer walked the red carpet with ease in this sparkling outfit. Leaving her shiny brown locks down in a soft flowing hairstyle was the perfect choice for this beautiful actress.
Katherine Heigl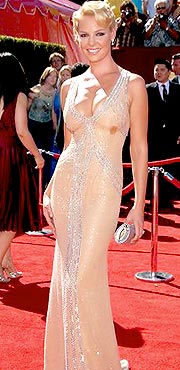 A very glamorous Katherine looked stunning in this vintage inspired low cut dress which suited her perfectly. To complete her fabulous look, Katherine pinned her hair up into soft finger waves to match her adoring outfit.
Alfre Woodard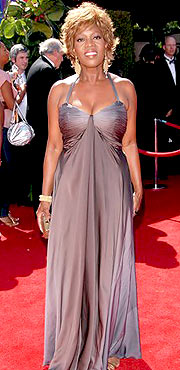 This stunning star showed off her gorgeous figure in this timeless two-tone gown. Alfre styled her golden brown tresses into simple and flicked hairdo to allow the full effect of her dress to show through.
Tyra Banks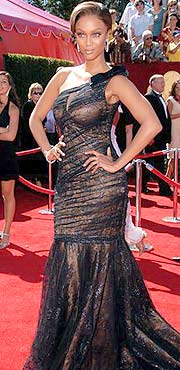 This glamorous model looked spectacular in this one-of-a-kind couture gown and large matching diamond earrings. Tyra pinned her hair up into a sexy one-sided bun for a very chic finish and a 10 out of 10 look.