Sofia Milos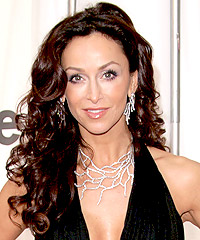 Roy's Opinion
Sofia has used her natural curls to their fullest advantage for a sensational look. The open ringlets look much better than the "stretched out" version she has been seen sporting lately. I believe that the key ingredient to this hairstyle looking so good is the deep mocha brown color. Curly hair as a rule generally looks dull due to the way light reflects back off the hair strands, but in this case the deep rich color adds gloss and also radiance to Sofia's peaches and cream complexion. One of her better looks!
9/10
Sarah's Opinion
This is a great looking hairstyle. Sofia's curls are very natural looking and help to add body through the top of her hairstyle. Her hairstyle also has the perfect amount of body and volume throughout the whole style. Her olive complexion matches well with her sexy golden brown hair and it shows that great care has been taken with her hair as it has lots of shine and a healthy bounce.
6/10
Paola's Opinion
Sofia always looks amazing with her stunning curls, and the chocolate tones really work well with her olive complexion. Although I do love this style, I think that it is just a little too flat around the top and gives a little too much length to Sofia's diamond face shape. I would suggest a touch more layering around the top area to give her enough body and to create an even look throughout.
5/10
Jessica Simpson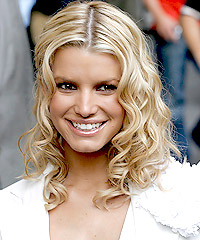 Roy's Opinion
Does any hairstyle not look good on Jessica Simpson? I like this below shoulder length, soft spiral curl look. Her right side has been pinned back behind her ear to off set the shape and to show off Jessica's gorgeous cheekbone structure, while some hair has been left to fall forward. This soft looking hairstyle will last all night due to Jessica's natural waves. The beige blonde color with platinum blonde slices adds texture and definition to the overall look. An elegant style!
9/10
Sarah's Opinion
This is a great hairstyle for Jessica. The sexy, soft waves throughout her hair have been balanced through her layers to create this beautiful hairstyle which suits her face shape. The soft champagne blonde balance's well with Jessica's skin tone. This is definitely one of Jessica's best looks and is a relaxed and fresh style that is great for any occasion.
9/10
Paola's Opinion
Jessica's constantly changing styles always looks great, and this hairdo is no exception. Keeping this buxom blonde in soft curls really shapes her face perfectly, I especially love the soft highlights placed throughout which give this style an all over natural appeal. This style is perfectly shaped from top to bottom. I love this 'do!
10/10
Tori Spelling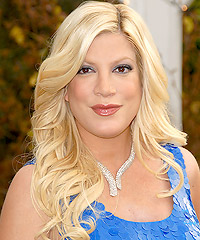 Roy's Opinion
This '70s looking flick is a nice cut but all wrong for Tori. The shape actually makes Tori look like a size 20 when we know she is not. Too much width! For starters, the part should be in the centre, which would make Tori's face shape appear much slimmer and longer. I also don't like the nothing flicks that bend and curve but stop short of being straight, waves, or curls. I always prefer straight hair on Tori because it makes her larger facial features less obvious. The color is also far too gold for Tori's pink complexion.
2/10 - Only for Styling!
Sarah's Opinion
With this style, Tori's hair is a little too flat on the top for the weight that is running through the sides. The weight through the sides also gives her cheeks a wider look. More height on the top will help to balance out the weight that is falling through the mid-lengths. More layers through the mid-lengths will also help to take out some of the weight and bulk. This is definitely a bad choice for Tori!
5/10
Paola's Opinion
Tori simply lights up with this beautiful blonde style. I think the blonde is a perfect tone for Tori, not too golden and not too ash. Long shaped layers have been cut throughout her style to form these full, gorgeous waves. The side parting gives her a little more lift, but I would suggest a little more height around the top to create a more even look.
8/10