When your haircut includes a great feature like bangs, it's only natural to want to make sure it's shown off to its best advantage, and that's where these makeup tips come in handy!
Bangs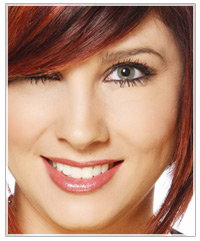 Regardless of whether your bangs are side-swept, eye-skimming, or full, blunt cut the best way to enhance them is to focus on your eye makeup.

Try eye shadows that flatter your eye color and make sure they are well blended with no tell-tale lines showing exactly where your eye shadow stops and starts across your lid.

No eye makeup look would be complete without a healthy lashing of black mascara so apply a coat, wait a few seconds and then apply another and then repeat. For more eye definition, draw a clean line around your rim with black eyeliner.

When making your eyes the focus of face, remember to keep your lips neutral with a nude or natural colored lipstick. The rest of your face should also be neutral with a light coating of skin tone complimenting foundation.
To see how you'd look with the salon hairstyle pictured in this article, click on the above image to try the virtual hairstyle with your own photo!